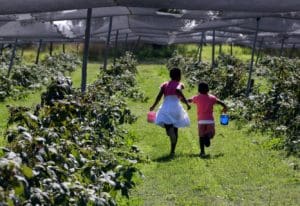 The Field Berry Farm is a raspberry farm south of Joburg. It offers berry picking during the raspberry season and sells frozen berries and berry products all year round. The farm includes an outdoor play area for children.
Groups – catered for on Wednesdays – can bring a picnic, pick raspberries and enjoy being outdoors together. The farm also offers school excursion packages for children to pick raspberries, tour the farm and play.
The Field Berry Farm is available to hire as a venue for weddings or parties, with inside and outside areas including a barn/chapel, a hall, veranda and garden.
Venue: The Field Berry Farm, De Deur, 1876 Walkerville
Time: Saturday & Sunday 9am to 3pm
Cost: Adults R50 | Pensioners & Kids (aged 2-11) R40 | Berries Picked R140/kg
Tel: 079 719 0793
Email: info@thefieldberryfarm.com
Website: thefieldberryfarm.com
Facebook: @thefieldberryfarm
Instagram: @thefieldberryfarm
Twitter: @theFieldBerries