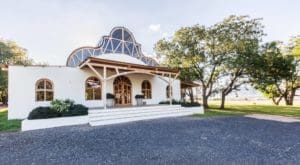 Kleine Rijke is an events venue that features Cape Dutch architecture built on a heritage farm in Hartbeespoort. The venue opens it's doors every Sunday.
Mocktails, tea and coffee are available and a range of drinks on site. The Pizza Sunday menu includes Steak, Caprese and the Fab pizzas prepared with various toppings.
A regular feast box includes chargrilled rump strips and both boxes offer seasonal fruit, seasonal salad and home-made fig preserves. The venue does not serve alcohol and guests are not allowed to bring their own.
The scenic location also features a 5km walking/running trail which is located near the Hartbeespoort Dam.
The venue is open every Sundays. Spots need to be reserved online, AND for more information on what they have to offer over the weekends, click here.
Venue: Kleine Rijke, 0240 Hartbeespoort
Time: Open from 10am
Tel: 072 146 0278
Email: jasmyn@kleinerijke.com
Website: www.kleinerijke.com
Facebook: @kleinerijke
Instagram: @kleinerijke