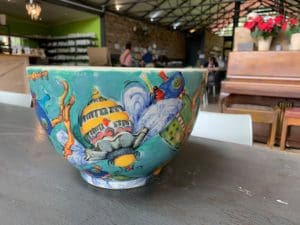 The Clay Café hosts fun ceramic art activities for the whole family set along the Irene countryside in Olifantsfontein.
Kids and adults are invited to express their creativity with pottery and painting. Visitors are inspired to have fun and add decorative patterns and designs to their creations, which can be gifted or stand as a personalised art piece at home. The participants can use various artistic styles to beautify mugs, jugs, plates, decor items and kid stuff.
The Clay Café is situated in a farm style building neighbouring the Barn where guests can enjoy light café meals, freshly baked cakes and coffee as well as homemade ice cream.
The venue also hosts corporate team building, school outing activities, including exclusive hen parties, baby showers, kitchen teas and book club events.
Advance reservations are essential, please contact 072 604 0090 to make a reservation or visit the website for more information.
Venue: Clay Cafe, 7 Nelson Road, Sunlawns A.H 1665, Olifantsfontein
Time: Weekdays 9am to 5pm (Closed Tues) | Weekends 8am to 5pm
Cost: Various
Tel: 072 604 0090
Email: info@claycaferedbarn.co.za
Website: www.thebigredbarn.co.za
Facebook: @claycaferedbarn
Instagram: @thebigredbarnza