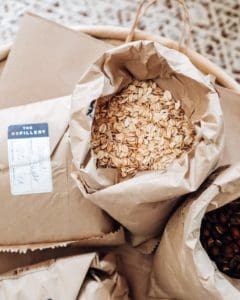 The Refillery is a planet-friendly grocer that stocks ethically-sourced products, offering a selection of pantry goods, personal hygiene, cleaning items while upholding plastic-free shopping.
Shoppers can stock up on a wide selection of plant-based and organic goods, pantry essentials, and health-based products.
The Refillery utilises a weigh-and-pay system that allows customers to shop knowing that each trip to the store aids in reducing single-use plastic packaging.
Some of the goods on offer include grains, pasta, rice, beans, as well as grooming and household products. Home delivery and refilling service are also on offer, as well as their call-and-collect facility.
Venues: Cedar Square, Fourways | Morningside Shopping Centre, Shop U17, Johannesburg | Hyde Park Corner, Hyde Park | Woodlands Boulevard Shopping Complex, Pretoria | Linden, 65 7th street. Denmyr Court
Opening hours: Mon to Sat 9am to 6pm | Sundays 9am to 2pm & 3pm
Email: sam@therefillery.co.za
Website: www.therefillery.co.za
Facebook: @therefillerysa
Instagram: @therefillerysa