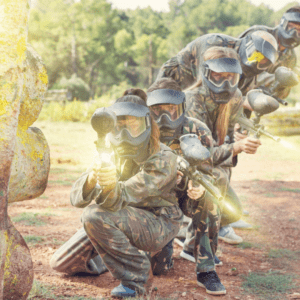 Field 19 Paintball aims to ensure that all their customers have a fun day out in a safe, well organised and relaxed environment. Field 19 caters for young children to bachelor parties, social groups, corporate's, right up to experienced league players.
There are four different fields each providing a different playing experience.
The SWAT house is a maze of rooms and passages designed to simulate close quarter combat. The field is an intense, adrenaline-packed, and sometimes painful experience.
The tyre field is fast-paced, technical and a speedball type field.
The bush field is for those who prefer a slower, stalking style of play.
The biggest field is the tournament field. The field hosts regular Tactical Paintball Series competitions. The size and design of the field tests teamwork and tactics.
There is safe parking, covered seating areas, ablutions, braai facilities, and a tuck shop selling boerewors rolls, coldrinks, chips chocolates etc. Players are welcome to bring their own refreshments.
Players can play as long as they like, except for Saturdays when there are two sessions. Bookings are essential. Card facilities are available.
The rental fee includes the gun, 200 paintballs, mask, overall, gas for the day, chest and neck protectors for women and children. While own marker players can use their own paintballs, rental players must use the range paint.
Venue: Field 19 Paint Ball, School Rd, Diepsloot, Johannesburg
Time: Daily 9am to 5pm
Cost: Rentals R180pp | 1 box of 2000 paintballs R500 | Own marker players R80pp | Air R30
Tel: 076 454 3309
Email: julianshore180@hotmail.com
Website: field19paintball.co.za
Facebook: Field 19 Paintball