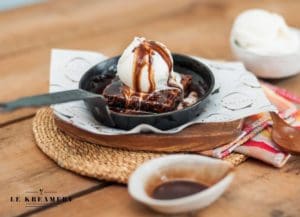 The Le Kreamery dessert and coffee lounge specialises in gourmet baking and offers an array of cuisine, combining sweet and savoury dining at the restaurant as well as the Park & Go service.
The recently revamped venue hosts a selection of light meals, lunches and dinners, which includes speciality milkshakes and other hot and cold beverage offerings. Guests can choose from an array selections from steak, burgers, pizza and seafood and sushi options. The gourmet dessert menu features pastries, puddings and ice-cream servings.
The Park & Go service allows guests place their order and dine from their vehicles, where staff members deliver dishes to the patron's car.
The Le Kreamery staff  follow strict Covid -19 protocol, conforming to safety regulations when serving customers. Please visit the Le Kreamery social media pages for more information or contact the restaurant on 083 438 7084.
Venue: Le Kreamery, Eldo Square Shopping Centre, Willem Botha Dr, Centurion, Pretoria
Time: Open from 9am & 11am on Mondays
Tel: 083 438 7084
Email: info@lekreamery.co.za
Facebook: @lekreamery
Instagram: @le_kreamery