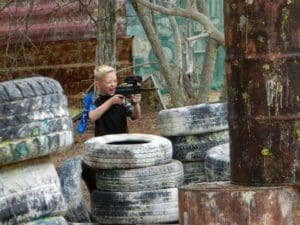 CryWolf features paintball and laser tag activities for all age groups, which includes laser clay pigeon shooting and various game formats hosted six themed playing fields.
Participants can choose from various packages tailored for kids and adults. The outdoor venue hosts birthdays, bachelors and team building events, which makes the extreme sport accessible to all visitors.
The paintball game formats include Elimination, Capture the Flag, Bomb defusing, Domination, Bodyguards and Zombie Nation.
The staff provide protective gear and safety tutorials before each paintball session, and marshals are on hand to guide kids through the laster tag games. For more information on their packages please visit www.crywolf.co.za
Paintball enthusiasts and tournament players are allowed to bring their own paintball kits. Each marker must fire below 300 fps (feet per second). CryWolf only uses paintballs that are environmentally safe and 100% biodegradable.
The clay pigeon shooting equipment uses infrared beams to simulate the sport. Dining facilities and entertainment areas are hosted at the venue. Please visit their website for more information or the book a session in the link below.
Venue: Cry Wolf, 53 Jan Smuts Ave, Irene, Centurion
Opening hours:  Wed to Sat & Sun
Website: www.crywolf.co.za
Tel: 062 050 0100
Email: eXperience@crywolf.co.za
Facebook: @CryWolfEntertainment
Instagram: @crywolfentertainment