Whether you are sober or wanting to limit your alcohol for physical or mental health reasons, the festive season can be a tricky time. Relax and celebrate in style with these alcohol-free drinks that give you the same great taste with none of the side effects, hangovers, and bad choices. Here is our list of local companies supporting South Africans in dry living.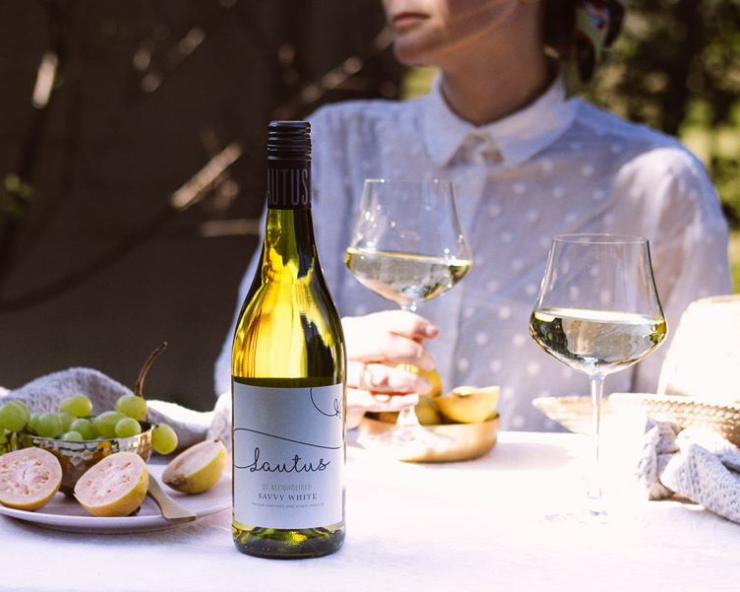 LA
UTUS DE-ALCOHOLISED WINE
During and after lockdown, Lautus De-Alcoholised Wines are supporting South Africans in creating lives in which health, wellness and social responsibility are priorities. Their aim is to inspire responsible drinking and contribute to family time and quality values.
Launched in 2017, Lautus was the first de-alcoholised wine in South Africa. The founder, Reg Holder of Holder Vineyard & Wines (Pty) Ltd, was on a mission to produce a non-alcoholic wine that would portray the beautiful complexity, elegance and finesse of premium wine.
The wine-making process begins with the true heroes – the vineyards. By using select sites that produce wines of high aromatic complexity and balance, along with cutting edge spinning cone technology to remove the alcohol, Lautus has managed to produce truly exceptional wines.
Their range includes Lautus Savvy White, Savvy Red and Savvy Rose as well as a sparkling wine (produced in the classic Methode Cap Classique style).
Where to get it: Lautus De-Alcoholised Wines are stocked in all major retail outlets including Woolworths and are served at top-rated restaurants around South Africa. Lautus Wines can also be purchased on their website for delivery
Website: drinklautus.com | Email: info@drinklautus.com | Tel: 083 678 9598
Facebook: drinklautus | Instagram: drinklautus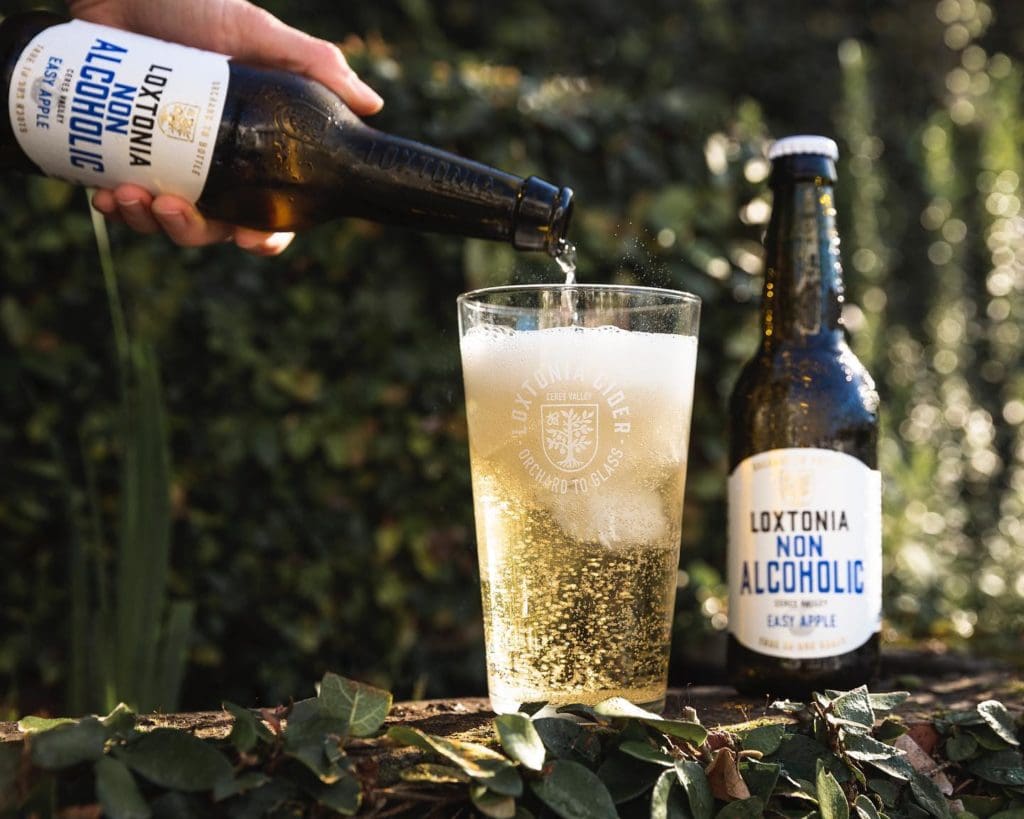 LOXTONIA CIDER
Loxtonia offers South Africans a range of eight ciders, all made with hand-picked apples from their family apple farm in the Ceres Valley. Their aim is to produce New World ciders, which use only the purest ingredients.
They complement this with their whole production process being run off solar energy as well as their "orchard to bottle" philosophy, which ensures a premium, natural cider, containing no preservatives or artificial additives. Loxtonia cider is also gluten and vegan friendly.
Their non-alcoholic cider, Easy Apple, contains only 58 calories and has an apple-forward taste and a smooth dry Granny Smith finish. It never weighs you down, making it the perfect drink of choice for the festive season. Enjoy chilled, straight from the fridge or pour over ice and garnish with a slice of apple.
Loxtonia also offers tasting experiences, cellar tours and pre-arranged picnics.
Where to get it: Online or at your nearest Spar Tops, Pick 'n Pay Family store or Liquor City.
Website: loxtonia.co.za | Email: ali@loxtonia.co.za | Tel: 023 004 0930
Facebook: loxtoniacider | Instagram: loxtonia_cider
LEOPARD'S LEAP
Finding its roots in Franschhoek wine valley, Leopard's Leap's renowned wine accompanies celebrations in more than 40 countries globally.
Whether you do not drink or are looking to limit your alcohol consumption this festive season, the Leopard's Leap Natura range gives a delightful alternative to alcoholic wine, created for adding quality of life during times of celebration. Versatile, health-conscious and delicious, Natura is ideal for a responsible, quality lifestyle.
Natura Classic Red offers notes of red berries and sweet spice intrigue and follows through for a smooth mouthfeel and lingering aftertaste. Delightful on its own and an outstanding partner on the dinner table. Made from Chenin Blanc and Muscat grapes, Natura Classic White is crisp and refreshing. It has tropical fruit flavours and an integrated palate. Both Natura Classic Red and Classic White are low in calories and vegan friendly.
Where to get it: Online
Website: leopardsleap.co.za | Email: info@leopardsleap.co.za | Tel: 021 876 8002
Facebook: LeopardsLeapWine | Instagram:LeopardsLeap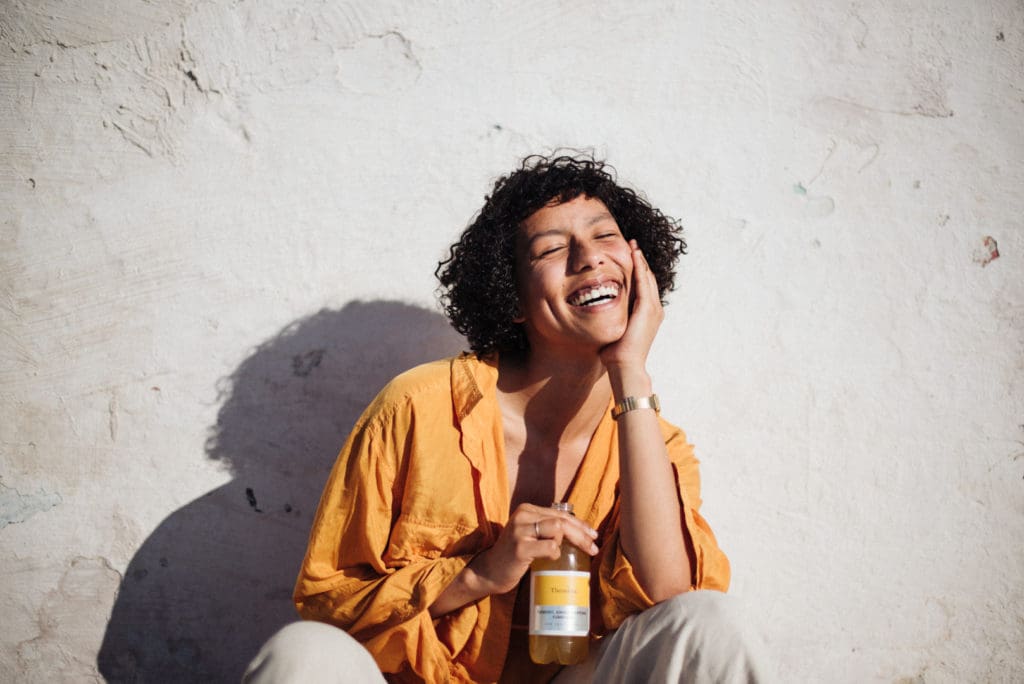 THEONISTA KOMBUCHA AND CRAFT SODA
Theonista is an award-winning, local, female-fuelled craft beverage company, supplying South Africans with truly healthy raw and natural kombucha as well as craft sodas, since 2013.
Theonista produces craft Ginger Beer, 12+ flavours of Kombucha, liquid concentrated chai as well as sugar-free Ginger Beer and Cream Soda. Each Theonista batch is microbrewed, using premium organic teas as well as pure fruit, root and botanical extracts, and bottled by hand in Woodstock.
Their Ginger Beer Original is a deliciously healthy, 100% natural twist on a classic. It is infused with organic rooibos, only includes fresh, whole ingredients and contains 40% less sugar than mainstream commercial brands. Their small-batch sugar-free Ginger Beer and sugar-free Cream Soda finds sweetness in only xylitol and stevia. Whilst their Ginger Beer is infused with organic rooibos, their Cream Soda is made with prebiotic-rich organic baobab and green rooibos.
Where to get it: Shop at Jackson's Real Food Market and Faithful by Nature (online) – or directly via Theonista's online store
Website: theonista.co.za | Email: info@theonista.co.za | Tel: 066 411 2080
Facebook: theonistaproducts | Instagram: theonista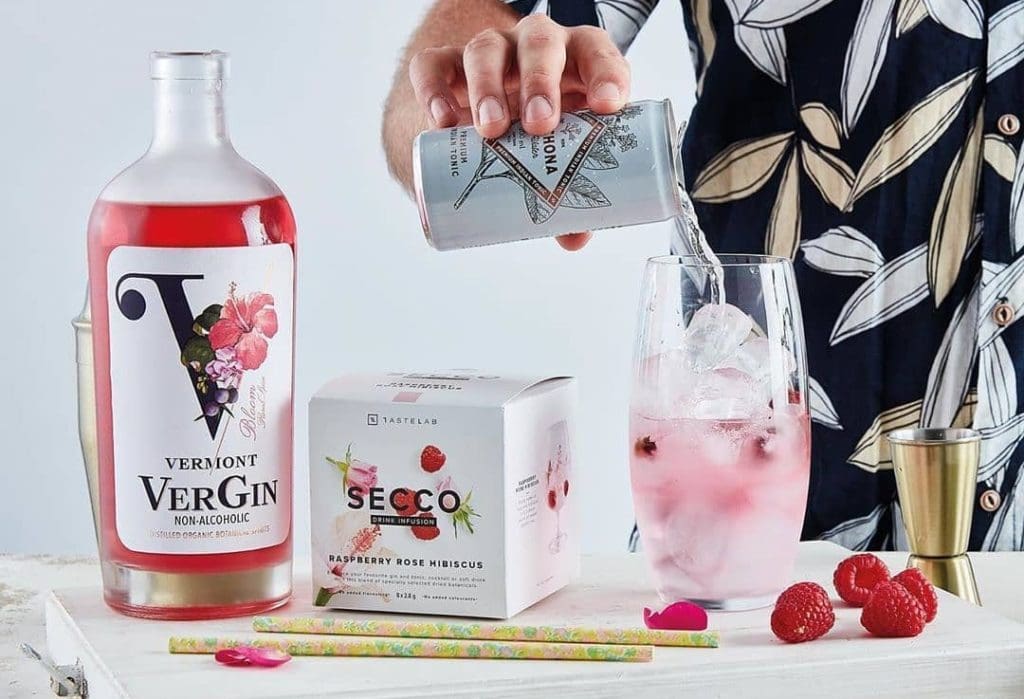 VERMONT VERGIN SA
VerGin was South Africa's first distilled, non-alcoholic, organic botanical spirits launched in 2018. Made from real Juniper and organic botanicals it looks like a gin, is served like a gin and makes a perfect G&T, without any additives, artificial sweeteners or colourants. It is 0% sugar and 0% alcohol.
Their range includes Bloom, a gin with a beautiful rose geranium profile and floral notes, and Limon, a gin with lemon and lime notes, balanced with juniper and gentle cardamom spice undertones.
VerGin also creates ready-to-drink alcohol-free cocktails. Their Bloom Cranberry Lavender Cosmo provides an aromatic twist on the classic Cosmo. And if you're looking for a classic minty Mojito taste without the hangover, try their Limon Mojito. No sugar or sweeteners have been added and both are preservative-free.
Where: Shop directly via their Online store
Website: verginsa.co.za | Email: sales@verginsa.co.za | Tel: 079 276 2479
Facebook: vermontverginsa | Instagram: vergin_sa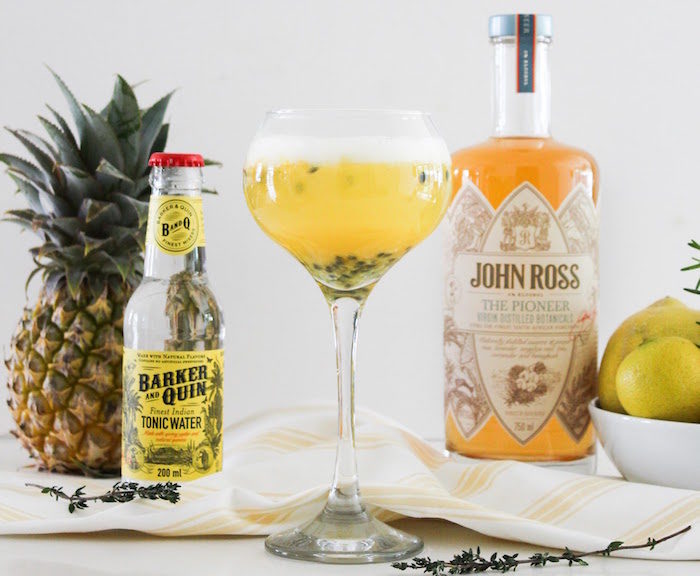 JOHN ROSS VIRGIN BOTANICALS
John Ross offers South Africans a range of premium virgin spirits, a healthier and sophisticated alternative to sugary sodas during lockdown or future social gatherings. 
John Ross Virgin Distilled Botanicals is a first of its kind for South Africa and the world. Their virgin distilled botanicals are blended together using all-natural ingredients to create a classic non-alcoholic spirit, infused with honeybush tannin. 
Their range includes three virgin spirits, including The Pioneer, The Mary and The Herbarium. Whilst The Pioneer constitutes naturally distilled essence of juniper, rose, lavender, angelica root, lime, coriander and honeybush, The Mary is a pink virgin spirit with a classic rose water, almost Turkish delight bouquet. The Herbarium offers subtle green colour notes, making for a herbaceous drink with all the plant-based characteristics you would expect. 
We love John Ross Virgin Distilled Botanicals and Barker & Quin Premium Tonic Water as our perfect serve for the discerning gin drinker. Find more serving suggestions on the John Ross website to create your luxurious lockdown mocktail.
Where to get it: Shop online for delivery
Website: johnrossvirgin.co.za | Email: zero@johnrossvirgin.co.za | Tel: 021 204 2493
Facebook: johnrossvirgin | Instagram: johnross_virgin_distilled_gin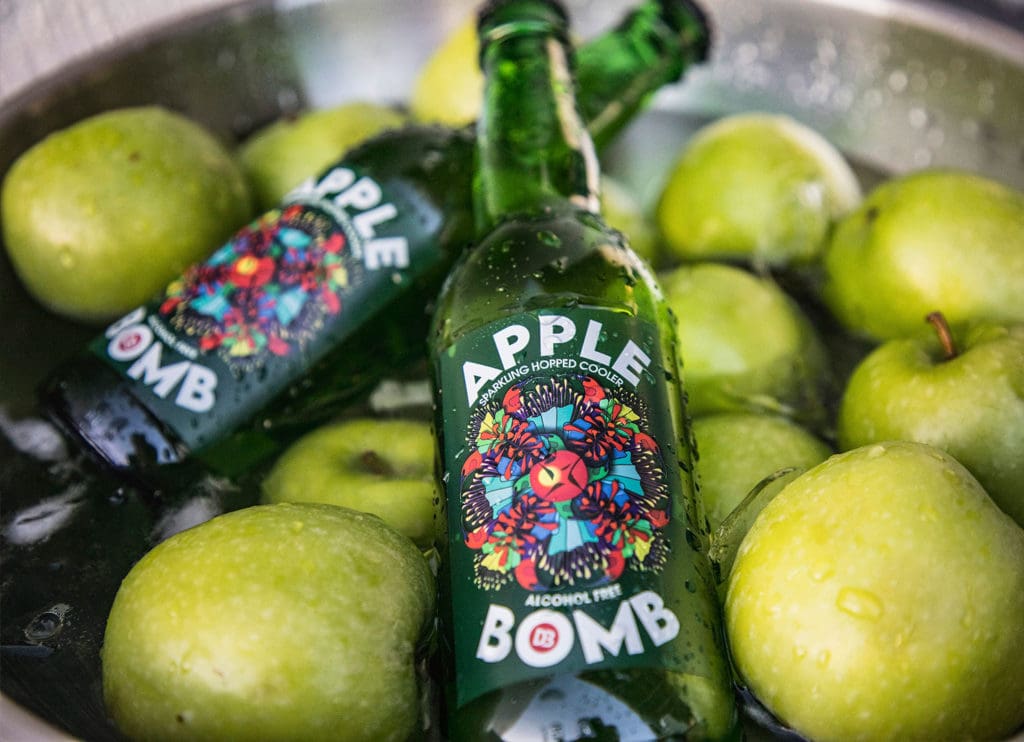 DARLING BREW
In 2019, the Darling Brew team came together to discuss the ever-growing demand for Non-Alcoholic products in South Africa and decided that the expansion of their range would be of the utmost importance in 2020 (not knowing what was really in-store for us). On that day, they conceptualised a few new brews that went into development with Apple Bomb (a Sparkling Hopped Cooler) being their first to go into production shortly followed by Navigator (a Soft Seltzer infused with citra hops). Originally planned for late summer 2020, they had to quickly adapt to COVID-curveballs and therefore accelerated their launch plans during the alcohol ban.
Darling Brew has always been a conservation-first brand and they look for inspiration in Africa's biodiversity for all of our products: Apple Bomb is inspired by the Malachite Sunbird and Navigator is inspired by the waterways of Africa. They ensure that the process from their production and packaging, to delivery and shipping remains as sustainable as possible so that our natural world can continue to inspire people for generations to come.
Where to get it: Apple Bomb and Navigator are available for nationwide delivery from their online shop. Apple Bomb is also currently available at your local Spars in Gauteng
Website: darlingbrew.co.za | Email: shop@darlingbrew.co.za | Tel: 021 286 1099
Facebook: darlingbrew | Instagram: darlingbrew