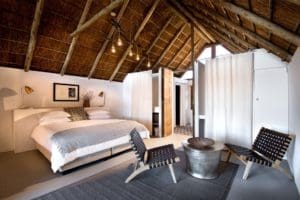 The stress of everyday life can sometimes result in forgetting to place a focus on the self. An escape into The Cradle Boutique Hotel reveals stories of our origins and allows for the chance to rebalance. And what better way to do this than by spending a weekend in luxurious accommodation, within the very centre of the Cradle of Humankind.
The Cradle Boutique Hotel is a unique, luxury destination in the heart of the Cradle itself, providing a range of exclusive experiences for the discerning, the adventurous and the eco-friendly alike.
In addition to the Owner's Suite, 16 eco-friendly timber and thatch rooms, the hotel also offers a tented camp. Nestled under the White Stinkwood trees, these are fully equipped with comfortable beds, crisp linen, a private veranda and an en-suite camp bathroom. Relax in the central camp area in the tented lounge or enjoy a meal in the dining area, while housekeeping services your private tent.
Cradle Boutique's combination of ancient African landscapes and modern facilities with world-class architectural features results in an ideal setting to cater for a variety of events. Whether for various sizes of conferences – the Motetse and Stone Rooms each catering for different sizes and styles – or for a wedding party or long storytelling evenings, a range of catering venues abound.
Address: Cradle Boutique Hotel & Nature Reserve, R540, Kromdraai Rd, Kromdraai
Tel: 087 353 9599
Email: reservations@thecradle.co.za
Website: www.cradlehotel.co.za
Facebook: Cradle Boutique Hotel
Twitter: @CradleHotel
Instagram: @cradleboutiquehotel