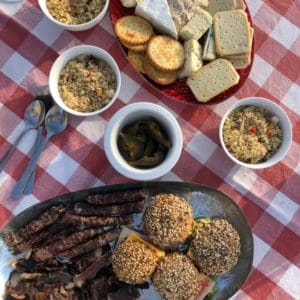 Kindly note that picnic experiences and other activities on offer are available to in-house guests to Sibani lodge until further notice
A calm way to wind down the day, picnics are perhaps the best excuse to get outdoors, especially in surroundings as serene as the Cradle of Humankind.
Sibani Lodge presents a variety of picnic offerings catering for all occasions and diets. Ranging not only from a Meat Feast to Vegan and Vegetarian baskets, but it also gives picnic lovers options from a simple sunset indulgence to a romantic soirée. There is even a special Sibani picnic knapsack dedicated to satisfying children's appetites. To top off the perfect picnic, a bottle of wine or even a foot, hand, or back and neck massage can be added to any picnic purchase.
Sibani Lodge is an exclusive wilderness lodge nestled in the idyllic nature reserve of Mt Savannah. Stretching over 2000 hectares, the game reserve is located in the Cradle of Humankind, providing the perfect scene for picnic pleasure.
Cost: From R155pp
Time: 10am to 12pm | 2pm to 4pm
Address: Sibani Lodge, 39, Farm Danielsrust
Tel: 087 012 5375
Email: reservations@sibanilodge.co.za
Website: www.sibanilodge.co.za
Facebook: Sibani Lodge
Instagram: @sibanilodge