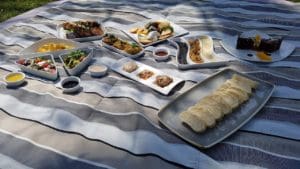 While exploring the ambling beauty of the Crocodile River, consider one of the gourmet WildWood Restaurant picnics to take advantage of their idyllic outdoor dining. Sip on a glass of bubbly and tune down for a relaxing time spent with good company and good food.
WildWood Restaurant picnics in Cradle of Humankind are packed with 15 delectable dishes and a bottle of wine to share. Snack on delights that include smoked salmon rillette, beef sirloin and roasted lemon chicken. The dishes are served in elegant wicker picnic baskets, and WildWood Brasserie provides blankets and cushions to ensure a relaxed, enjoyable and laid-back experience.
Should unfavourable weather conditions disturb the tranquillity of your picnic, WildWood has a Plan B – an inclement weather plan to ensure all goes well.
WildWood maintains a simple aim: to provide great service and good food with friendly staff. Their picnic spots, along the Crocodile River, provide an ideal setting to relax in a wonderfully tranquil setting.
Cost: R400 per person | R900 – R2500 Couples
Time: 11.30am to 3:30pm
Address: WildWood, Toadbury Country Hall Hotel, Plot 64, Beyers Naude Drive, Elandsdrift
Tel: 010 593 7523
Email: info@wild-wood.co.za
Website: www.wild-wood.co.za
Facebook: @wildwoodrestaurantsa
Instagram: @wildwoodtoadbury