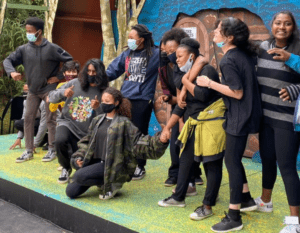 The National Children's Theatre Workshop in Parktown, Johannesburg, is a workshop for kids aged 7 – 17.
In a time where it has become increasingly difficult to have meaningful fun and learning away from a screen, NCT is offering a fun, interactive and in-person Saturday morning workshops.
Under COVID regulations, and with the schools closed, the workshops are taking place outside with all COVID protocols observed. The workshops teach children how to sing, dance, act, and even mime their way into a more confident, expressive, and imaginative 2021.
The workshop programme for the year includes the following:
Term 1, Theme Around the World, 30 January to 27 March 2021
Term 2, Theme Local is Lekker, 8 May to 26 June 2021
Term 3, Theme In My dreams, 17 July to 18 September 2021 
Term 4, Theme My Body, My Space, 9 October to 27 November 2021 
The NCT team is introducing a NCT Choir in term 2.  Auditions are held in term 1. Further details to follow soon.
For further queries, or to enrol for the 2021 programme contact Cindy Gordon.
To read more about the National Children's Theatre, click here.
Venue: National Children's Theatre, 3 Junction Avenue, Parktown, Johannesburg
Time: Sat 9am to 12pm
Cost: Term Fee R1680 | Registration Fee R200
Tel: 011 484 1584 | 082 747 5165
Email: cindy@nctt.org.za
Instagram: @nctheatresa
Facebook: @NCTheatreSA
Twitter: @NCTparktown