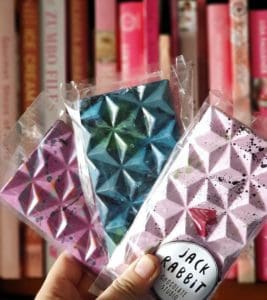 Chocolate-obsessed Stephanie van Vuuren has funneled her passion for the treat into an award-winning brand: the Jack Rabbit Chocolate Studio.
Self-taught chocolatier Van Vuuren leads a professional and creative team in charge of creating artisanal chocolates and confections in Gauteng. The culinary wiz has sampled delights locally and across the globe to familiarise herself with the standard, opened an online and brick-and-mortar store, and recently bagged the 'gold' accolade in the European Open Category of the International Chocolate Awards as well as 'silver' version in the World Finals of the International Chocolate Awards hosted in London.
The studio creates all their fillings in-house, and pay particular attention to the balance of flavour. They find it extremely important that the customer experience is always fantastic, so each chocolate creation is hand-painted and treated like its unique little masterpiece (even including a signature at the bottom!).
Made with love and passion, be sure to treat your Valentine to one of several Jack Rabbit Chocolate special Valentine's packages and/or boxes on offer.
Venue: Jack Rabbit Chocolate Studio, Waterkloof Heights Shopping Center, 103 Club Ave, Waterkloof Heights. Alternatively, visit their online store.
Time: Tue to Fri 9am to 5pm | Sat 9am to 3pm
Email: info@jackrabbitchocolate.co.za
Website: jackrabbitchocolate.co.za
Facebook: JR Chocolate Studio
Instagram: @jackrabbit_chocolate