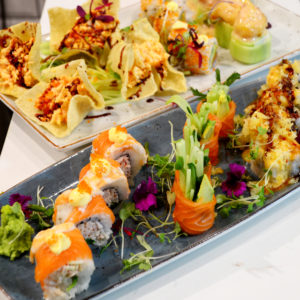 The Cowfish restaurant brings a new and fresh concept to Silverstar Casino. Cowfish is a trendy, upmarket yet casual dining experience offering the greatest in sushi, dim sum, burgers, seafood, grills & cocktails. They aim to value the love of good food, maximum flavour and fully loaded foodie experiences.
The new food concept marries gourmet handmade American hamburgers with authentic Japanese Sushi, is proving to be very popular. Should diners go out for authentic sushi or for a modern, roadhouse burger? Diners have the option of both without feeling constricted to a specific choice of cuisine. At the same time, enjoying an authentic, honest and delicious option of both. Patrons wash it all down with one of their cocktails. It's experimental, fresh and surprising.
The menu is adventurous and bold, with items such as their famous Tomahawk Steak which is 600g ribeye on the bone. The restaurant is also known for its Dream Sushi, Mantears Burger, and Chilli Cheese Teriyaki Melt Rump.
Through experience in the industry and expert knowledge of seafood and sushi, mixed with a deep understanding of the burger and steakhouse genres; the owners created this new approach to dining with a brand new concept.
To see more about Silverstar Casino, click here.
Venue: Cowfish, Silverstar Casino, Shop 5 R28, Muldersdrift, Mogale City, Krugersdorp
Time: Mon to Thurs 12pm to 8pm | Fri to Sun 11am to 8pm
Tel: 063 545 4196
Email: silvercowfish@gmail.com
Website: www.silverstar.co.za | cow-fish.co.za
Facebook: @CowfishSilverstarCasino
Instagram: @cowfishsilverstarcasino