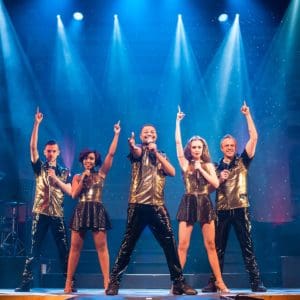 The Barnyard Theatre hosts live music shows and events that captivate and entertain.
The theatre identifies talent and gives them the opportunity to earn a living doing what they love and do best. The Barnyard Theatre Production Company owns and produces all the shows and employs all musicians and performers. The company has produced over 110 shows in 16 years, including Under African Skies (Also known as Diamonds & Dust), that has performed at over 80 theatres in Belgium, Holland, France and Denmark where it received rave reviews and achieved excellent ticket sales. Barnyard shows have also been staged internationally in the Middle and the Far East, including multiple sell-outs, shows at The First Group Theatre at the five-star Madinat Jumeirah resort in Dubai. The productions have also been seen in one of the entertainment hubs of South Africa, the renowned Sun City.
To see the Barnyard schedule, click here.
The Barnyard Theatre has been the venue of choice for many well-known companies. Barnyards are hired with or without a Barnyard show and offer multifunctional facilities with state-of-the-art equipment, secure parking and wheelchair access.
The Barnyard Theatre is the ideal venue for presentations, award ceremonies, product launches, CD launches, conferencing, team building, training sessions, year-end parties and client entertainment. As well as dance festivals, matric dances and debs balls, graduations, school concerts, and everything in-between.
The Barnyard Theatre also offers fundraising opportunities as part of their social responsibility to the community. They offer companies and NPOs a reduced ticket rate, enabling them to re-sell at a profit to raise funds for their cause.
Please contact the preferred Barnyard Theatre for more information and to request quotes.
Emperors Palace Barnyard Theatre
Venue: Emperors Palace, 64 Jones Rd, Boksburg, Kempton Park
Tel: 011 928 1108
Email: eastrand1@barnyardtheatres.co.za
Silverstar Barnyard
Venue: Silverstar Casino, The Square at Silverstar Casino, R28, Muldersdrift, Mogale City, Krugersdorp
Tel: 010 593 0744
Email: silverstar@barnyardtheatres.co.za
Menlyn Barnyard
Venue: Menlyn Park Shopping Centre, Atterbury Rd &, Lois Ave, Pretoria
Tel: 012 880 2727
Email: celeste@barnyardtheatre.co.za
Email: events@barnyardtheatre.co.za
Website: www.barnyardtheatre.co.za
Facebook:@barnyardtheatres | @EmperorsPalaceBarnyard | @SilverstarBarnyard | @MenlynBarnyard
Instagram: @barnyardtheatres