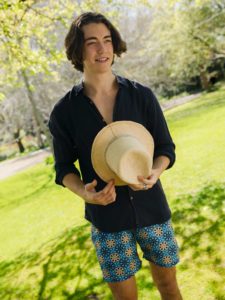 Chasing Bees is a family-run South African menswear brand for gents who appreciate mod prints and sharp fits with a strong ethical underscore.
The current collection leans more towards the retro side with heavy references to 70s floral and geometric prints. And to keep on the contemporary curve, Chasing Bees swim shorts are fashionably cropped for a neater fit, and made from finely peached strong lightweight and quick-drying swimwear fabric.
And their conservation and ethical values of Chasing Bees stack up equally neatly. The team is passionate about their support for small business development and actively source and partner with local businesses to decrease their carbon footprint.
The Cape Town brand also walks the talk by donating a percentage of their profit to Ujubee, a research group in the Western Cape, whose work is dedicated to the study and conservation of wild bees and other pollinators and the natural habitat. 
Tel: 082 493 9170
Email: info@chasingbees.co.za
Website: chasingbees.co.za
Facebook: @chasing.bees.za
Instagram: @chasing.bees