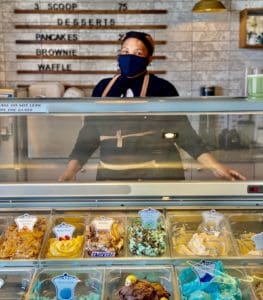 Krema – Caffe e Gelato is located in Pretoria and offers patrons a range of homemade gelato, freshly-made coffee, waffles and other meals for either sit-down or takeaway.
Open seven days a week from 8am onwards, the menu also offers burgers, breakfasts and sweet treats such as brownies or pancakes to order.
A range of gelato flavours is on offer, including salted butter caramel, mango sorbet, Snickers, mint choc chip, vanilla, cotton candy and bubblegum.
Venue: Krema – Caffe e Gelato, Cnr Selikats and Atterbury Rd, Pretoria, Gauteng
Time: Mon to Thurs 8am to 6.30pm | Fri 8am to 8pm | Sat 8am to 7pm | Sun 8am to 6pm
Tel: 012 492 5879
Email: kremagelato@gmail.com
Instagram: @kremagelato
Facebook: @kremagelato