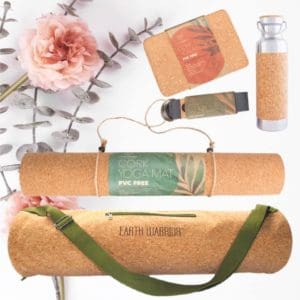 Launched in 2017, Earth Warrior was founded out of a love for wellness, the outdoors and respect for Mother Nature. Their yoga products, which include mats and yoga blocks are made from cork, which is a renewable, easily recycled and sustainable resource.
They also stock cotton yoga straps as well as shampoo bars, deodorant bars and a variety of package-free and/or reusable products.
The fact that their products are cork make them non-slip, anti-microbial (resistance to mould, mildew and bacteria), anti-fungal, water-resistant and dust repellent- perfect for allergy sufferers.
As a result of their view that human wellness should not come at the expense of environmental wellness, their products are eco-friendly, non-toxic and are made from natural materials. They aim to reduce the use of single-use plastics and to eliminate PVC from the planet one yoga mat at a time.
Venue: 1018 Deerhurst Cl, Riverwood, Dainfern, Johannesburg (by appointment)
Tel: 083 256 1685
Email: hello@earthwarrior.co.za
Website: earthwarrior.co.za
Facebook: @earthwarriorsa
Instagram: @earthwarriorsa