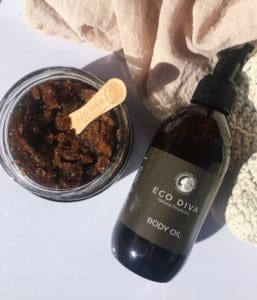 Whilst many of us focus on the waste we create through products and product packaging, Eco Diva also reminds us not to forget about the microplastics that can be found within many of our beauty and self-care products.
Their Ecofoliant Skin Polish is microplastic-free and gently exfoliates with baobab seed powder, oats, and rice instead. It balances pH levels, assists in unblocking pores, encourages skin renewal and boosts circulation, without any negative impact on our oceans.
Their range of skincare products are organic, unisex, chemical-, paraben- and sulphate-free, vegan-friendly, Beauty Without Cruelty certified and proudly made in South Africa. All Eco Diva products are soothing and assist in calming skin irritations, rashes or eczema.
#FLY (FirstLoveYourself)
Venue: 41 New Church Street, Fire & Ice Hotel Cape Town
Tel: 021 200 5900
Email: info@ecodiva.co.za
Website: ecodiva.co.za
Facebook: @ecodivanatural
Instagram: @ecodivanatural