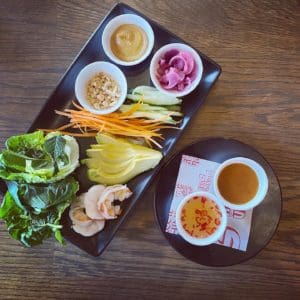 Saigon Suzy is family owned and run from the love and passion of south-east Asian food. They try to create jobs and bring the joy of great quality, tasty food to the South African market.
Saigon Suzy is the original Asian BBQ and Rock 'n Roll bar, with authentic Asian inspired cocktails and street food from all over South East Asia – Thailand, Vietnam, China, Korea and Japan. Indulge from Bao, Bun Cha, Banh Xeo, Pho, BBQ Street Skewers to Pok Pok chicken wings. The restaurant plays the best Rock N' Roll and classic hits while foodies enjoy their meals.
Suzy offers takeaways from their stores to enjoy safely at home. Additionally, they offer DIY dim sum kits which to have fresh and delicious dim sum at home. Order can be placed for pick up or delivery with their delivery partners.
Suzy imports Asian beers, sake, gins and whiskeys to try along with all the usual SA drinks.
Saigon Suzy is home to the No Tell Motel private Karaoke rooms.
Saigon Suzy has locations in Parkwood Mansions, Rosebank & Cedar Square, Fourways.
Venue: Unit 1, Parkwood Mansions, 144 Jan Smuts Ave, Parkwood | Shop U3 6B Cedar Square Shopping Centre, Cedar Rd, Fourways, Sandton
Time: Mon to Sat 12pm to 9pm | Sun 12pm to 8pm


Tel: Whatsapp 076 284 9786
Email: info@saigonsuzy.co.za
Website: saigonsuzy.co.za
Facebook: @SaigonSuzyJHB
Instagram: @saigonsuzyjhb
Twitter: @saigonsuzyjhb