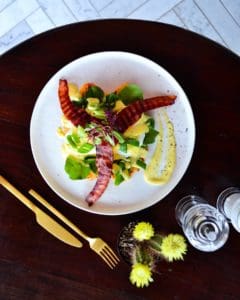 As one of the trendiest cafes in Jozi right now, MorningGlory Cafe serves up some of the most Instagrammable breakfasts with saucy references. But there's more than just millennial cool and witty innuendos and at this all-day dining concept spot in Rosebank. 
You'll still find crowd-pleasing favourites such as Eggs Benedict, gourmet breakfast oats, and sourdough sarmies on the menu. But a few of their unique dishes such as the corn and zucchini fritter served with whipped avo, and a fresh salsa looks and tastes good enough to win over the most discern foodie snobs. 
Our must-try treat? The French Toast, which is a cornflakes-coated French toast served with fresh berries, creme fraiche, roasted banana, and a drizzle of honey.
Despite opening up shop in the midst of the pandemic, MorningGlory Cafe is slowly building up a following or returning regulars. The team proudly cooks all their dishes from scratch for the best possible quality.
Time: Mon to Fri, 7am to 5pm, Sat, Sun and Public Holidays, 7am to 12pm
Address: Park Corner, 146 Jan Smuts Avenue, Parkwood, Johannesburg
Website: morning-glory-cafe.com
Email: morningglory.jhb@gmail.com
Tel: 064 544 6556
Facebook: @morningglorycafe
Instagram: @morning_glory_jhb