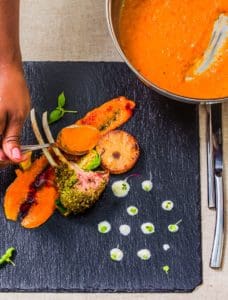 Huemxn is launching the first edition of their foodie series, Huemxn Secret Dining Experiences, in collaboration with a variety of interesting Johannesburg restaurants. The series is a set of dining experiences, centred around food, networking and culinary fun; with each experience offering interesting themes to keep foodies wanting more.
The first edition of the series is hosted in collaboration with Johannesburg based cooking studio Why Cook. The culinary studio, established in 2014, is run by 2 female chefs, Yolanda Dlamini and her partner Mathapelo Montsho. Why Cook focuses on the emerging South African cooking flair that boasts in the vast cultural catering diversities, using only the best ingredients to put together meals that best represent our cultural diverseness.
The is only the start of a series of exciting dining experiences catered to suit the needs of Johannesburg Foodies. To stay up to date with Huemxn Secret Dining Experiences follow them on any one of their social media platforms.
Booking is essential as there are only 15 tickets are available. Tickets for the evening includes a 3-course meal.
Venue: Why Cook, Shop18, 277 Main Rd, Bryanston
Cost: R860pp
Time: Sat 4pm to 7pm
Tel: 079 446 5960
Email: Lebo@Huemxn.co.za
Website: www.huemxn.co.za | www.whycook.co.za
Instagram: @Huemxn_ | @whycook_sa
Facebook: @Huemxn | @whycooksa