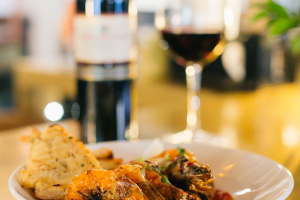 Old Town Italy presents their first La Dolce Vino evening of the year; and are excited to host familiar and new faces at their exclusive wine & dinner evening.
Indulge in a 5-course authentic Italian dinner menu, carefully paired with immaculate wines from Idiom Wines.
Prepare to be taken on a culinary journey, with live entertainment to keep dinners entertained throughout the evening.
Bookings are essential.
Menu for the evening:
BRUSCHETTA
Bagnette Alla Mamma Bruschetta
CICCHETTI
Calamari Fritti Caprese Salad
Heirloom Cherry Pomodoro Caprese Salad with Calamari Fritti Tubes,
Basil Pesto and Bocconcini Balls
Idiom Heritage Series Bianco
ANTIPASTI BOARD
A Selection of Imported Italian Cured Meats & Cheeses
Idiom Heritage Series Rosso
PRIMO/PASTA
Truffle Tagliatelle Fungi Pasta
Freshly Handmade Tagliatelle Pasta
Served with Wild Mushrooms and Black Truffle
Idiom Collection Primitivo Wine
SECONDI
Slow Roasted Pork Belly
Medley of Roasted Sweet Baby Vegetables, Creamy Parmesan Mash Potato
Served with Pinot Grigio White Wine Fennel Sauce
Idiom Collection Sangiovese Wine
DOLCE
Dark Chocolate Gelato
Served with Millionaires Crumble
Idiom Imperium Black Gold or White Gold Dessert Wine
Venue: Old Town Italy, Melrose Arch, 23 The High St, Melrose North, Johannesburg
Time: Thurs 6pm
Cost: R425pp


Tel: 010 109 8632
Email: gm-melrosearch@oldtown.co.za
Website: oldtown.co.za
Facebook: @oldtownitaly | La Dolce Vino | Old Town Italy
Instagram: @oldtownitaly