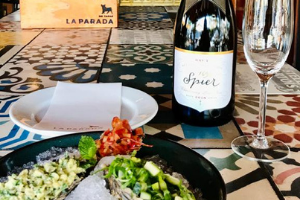 La Parada introduces their very first Tapas & Tannins pairing evening at their Parkhurst branch, with Charmaine Ramalope-Makhubela.
Charmaine is the Culinary Artist and Founder of Glam Foodie and is known for delivering exceptional food & wine pairings, making for an exclusive and delightful culinary experience.
The evening is a unique 5-course tapas menu created by Charmaine Ramalope herself. All Tapas creations are be paired with a range of wines, carefully selected by Spier Wines.
See Charmaine's Indulgent Tapa's menu below.
Oyster Trio with Spier MCC Brut
Fresh Oysters with Apple Salsa & Mint.
Grilled Oysters with Jalapeño Butter
Oysters with Chargrilled Pepper Cream and Prosciutto Crisps 
Seafood Paella Croquetas paired with Spier Seaward Chardonnay
with Smoked Paprika Aioli
Beer Battered Fried Chicken Taco paired with Spier Creative Block 2
with Goats Cheese & Chimichurri Aioli
Slow Braised Paprika Beef paired with Spier Seaward Shiraz
with Crispy Polenta Cake, Spinach Purée & Balsamic Caramelized Onion Crisps
Salmon Ceviche paired with Spier Chardonnay/Pinot Noir Blend
with Avocado Mousse & Fennel Crisps
Dulce de Leche
and Vanilla Ice Cream Terrine.
Venue: La Parada Parkhurst Square, 38 4th Avenue, Parkhurst
Time: Thurs 6pm
Cost: R395


Tel: 010 035 6894
Email: parkhurst@laparada.co.za | info@laparada.co.za
Website: laparada.co.za
Facebook: @LaParadaZA  | Tapas & Tannins Hosted at La Parada Parkhurst | 25 March
Instagram: @laparadaza
Twitter: @LaParada_ZA