Meat-Free Mondays is a global challenge that encourages people to ditch all meat-based products for one day each week. Local artisans and entrepreneurs have stepped up to the plate to revamp your breakfast, lunch, and dinner with tasty, nutritious, and delicious meals with a touch of creativity. Whether you'd like to join the movement or are already in the swing of things, we've rounded up some of the best plant-based ideas to try. Give them a follow on social media to stay in touch with some clever serving suggestions.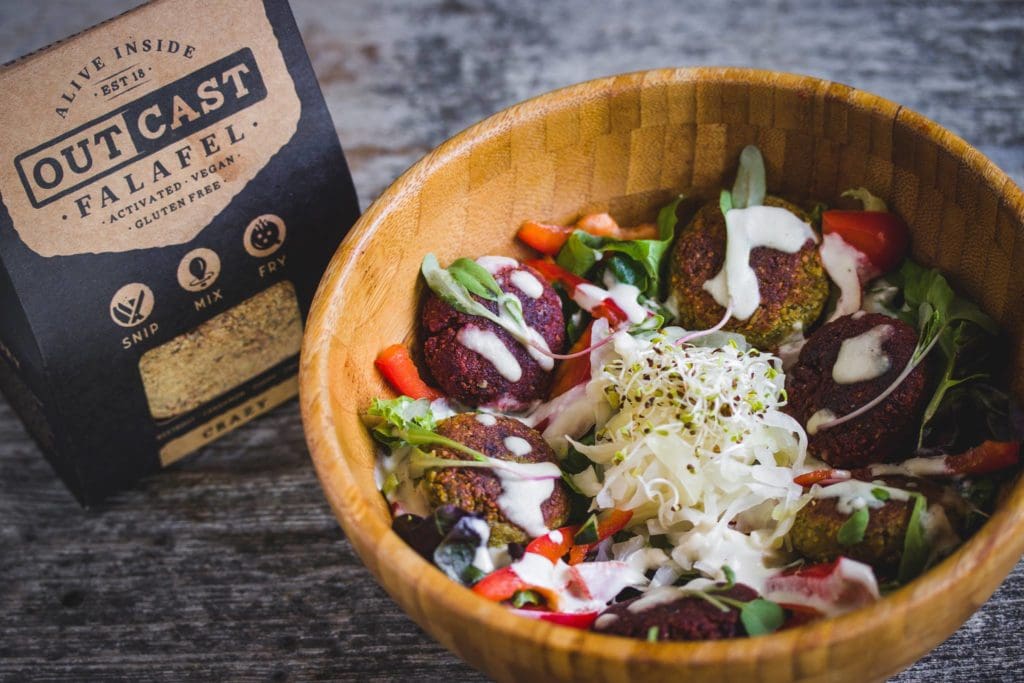 Outcast Foods creates easy-to-prepare healthy and yummy plant-based meals. They've created instant wholefood pre-mixes, but without any shortcuts – maintaining the highest quality in preparation and ingredients. In particular, their foods focus on optimal absorption of the nutritional benefits.
That means no gluten, fillers, preservatives, or additives. Just pure quality ingredients where natural flavours are brought to life.
Outcast Foods is based on four principles (1) Delicious (2) Healthy (3) Easy to prepare (4) Plant-based. And here is the best part – to prepare their products you simply add water and heat! And then all you have to do is devour them!
The products are loved by vegans, the health-conscious, and those looking to include more plant-based meals into their diet. It's also an excellent addition to your next camping adventure as it requires no refrigeration.
Their four product range includes:
Classic Falafel – Often referred to by people as the best falafel in town!
Crazy Falafel – A wild take on falafel with beetroot, cardamom, poppy seeds and a hint of chilli
Activated Burger mix – Nifty way to whip up your own burger patties in no time
Flapjack mix – Replacing our current pancake mix, they're naturally fluffy and scrumptious and nutrient-rich.
Where to get it: Outcast Foods can be purchased online from store outlets throughout Gauteng such as Bryanston Organic Market and Vegan Things
Website: outcastfoods.co.za | Email: info@outcastfoods.co.za
Facebook: @outcastfoods | Instagram: @outcastfoods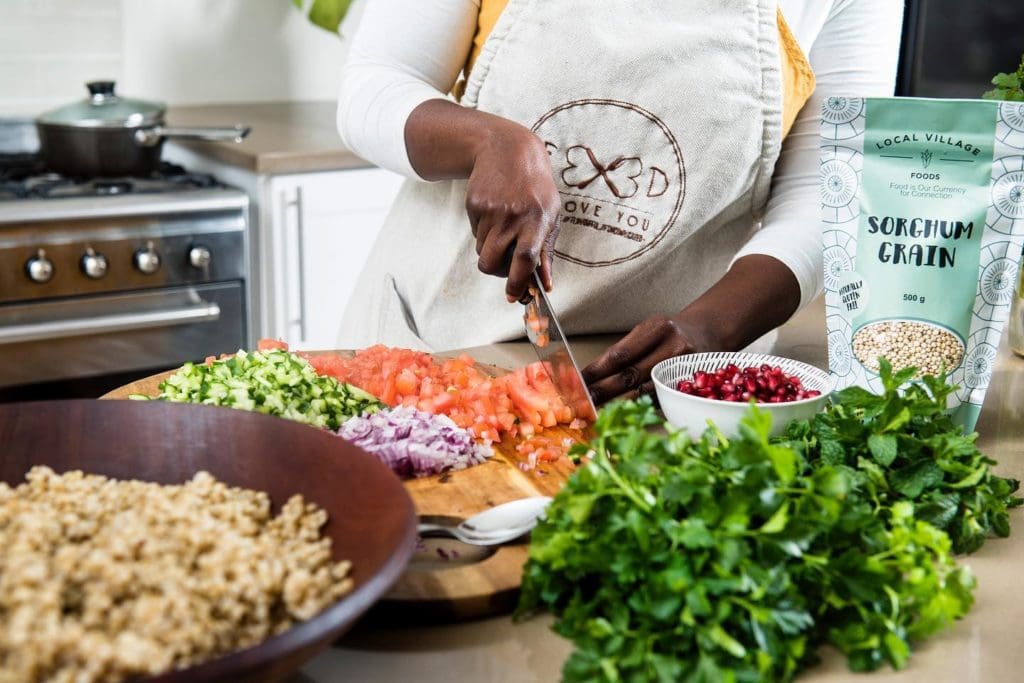 Local Village Foods' product range boasts a variety of gluten-free flours & grain, legumes, and superfoods that can be used across a variety of baking, cooking, and also in your favourite drinks. Start the most important meal of the day off with porridge made with Teff grain, topped with caramelised pear, or your favourite topping for some added flavour.
And as we're moving into the heart of winter, their Raw Cacao Powder makes the perfect ingredient for a cup of hot chocolate to cosy up with a book or Netflix. Or freshen up your post-workout smoothies with Moringa powder to bulk up on nutrients.
Sorghum grains also comes as an excellent alternative to brown rice for that mid-afternoon salad bowl. The range also includes Tiger Nuts in whole, peeled, and flour form. Tigernut is a small root vegetable that is naturally gluten-free and Paleo-friendly. And it offers those allergic to nuts an option for adding protein when baking and cooking.
Founder Sipamandla Manqele chanced on her vision to build a network of vibrant, local agri-prenuers across the African continent supplying equitably sourced and sustainably grown ingredients. Manqele and her team source 90% of their raw produce from small scale producers in countries such as Benin, Malawi, Nigeria, and closer to the homefront in regions of Limpopo and KZN.
Where to get it: Stock up on the Local Village Foods range from online stockists such as Jackson's Real Food Market, Faithful by Nature and Takealot.com. Don't forget to follow their Instagram page for snap-worthy serving suggestions.
Website: localvillagefoods.com | Email: info@localvillagefoods.com
Facebook: @localvillagefoods | Instagram: @localvillagefoods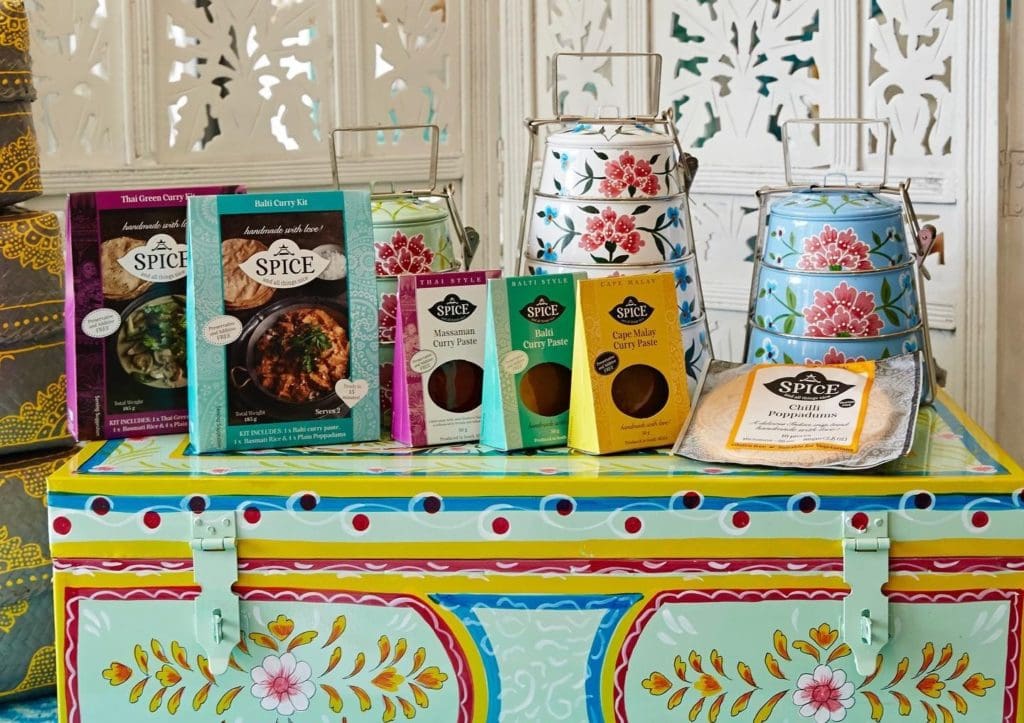 Eagle-eyed shoppers and passionate cooks will already be familiar with the tasty curry paste and complimentaries of Spice and All Things Nice. The Kosher-certified group famously steers clear from preservatives and additives, using only the finest ingredients for their products.
Luckily for vegans and those of us who regularly take part in Meat-Free Mondays, their range is also gluten-free and does not contain any animal-based ingredients.
Spice and All Things Nice also specialises in a variety of pantry boxes priced between R250-R300 that serves as a great base to build plant-based breakfasts, lunches, and dinners. This is ideal for newbies just dipping their toes into the challenge, or just busy cooks. All that's needed is your preferred fresh vegetables or vegan protein replacement and you're ready to experiment.
Their Vegan Pantry Box includes crunchy granola, a chocolate smoothie mix, and Dhal and Korma curry blends to name a few. No Indian feast would be complete without Poppadums, ready to pop in the oven. For the foodies with a more adventuristic palate, the Foods of the World Pantry Box is packed with handcrafted Thai Green Curry, Indian Butter Chicken, Dhal curry, Balti Curry and Moroccan Harissa pastes, a flavour for every night of the week.
All the pantry boxes include some recipe ideas, so no worries if you hit a brick wall. That's exactly the philosophy at Spice and All Things Nice – to make cooking healthy, fun, and convenient.
Spice and All Things Nice is the brainchild of a passionate cook and dedicated mum, Gillian Downes, who started the venture in 2002 from her mum's Newlands kitchen. Today her range of spices, pastes, and rice can be bought from the likes of Pick 'n Pay, Wellness Warehouse, Dischem, and selected Spar stores.
Where to get it: Secure your pantry box directly from the Spice and All Things Nice online store. Single unit pastes and spices can be bought directly from various grocery stores. Also available from Yuppiechef, Ucook, Faithful to Nature, and Buyfresh.
Website: spice.co.za | Email: gillian@spice.co.za | Contact: 021 448 2601
Facebook: @SpiceAndAllThingsNiceSA | Instagram: @spice_andallthingsnice

When two qualified chefs, one with Indonesian roots, joined forces to make tempeh more accessible and affordable to South Africans we knew the result would be good. Boemboe Foods is the brainchild of Malan and Julia Bartleman who shares a dedication to this fermented Indonesian 'meat replacement' staple. 
Boemboe Foods outfit is small-scale, with distribution in the Gauteng, Western Cape, and Kwazulu Natal. Malan and Julia handcrafts a Chickpea, Black Bean, and non-GMO Soybean tempeh range that is naturally gluten-free and vegan.
The team only uses South African soybeans for their products, and the fermentation process allows for easier digestion by eliminating phytic acid. And they don't pasteurize their tempeh – making it even fresher for consumers by keeping the good micro-organisms alive.
With zero cholesterol, tempeh boasts great calcium and is a natural source of plant-based B12 sources and the same quantity and quality of protein you'd find in chicken.
We know that tempeh may seem daunting for even the expert cook to tackle, so follow Boemboe Foods on social media or visit their website for easy and inspiring recipe ideas.
Where to get it: You can order directly from Boemboe Foods or Vegan Things for Gauteng deliveries, and shop at The Fussy Vegan, Fresh Earth, and other outlets
Website: boemboefoods.com | Email: boemboefoods@gmail.com | Tel: 076 493 7979
Facebook: @Boemboefoods | Instagram: @Boemboefoods
HERBI VŌHR is a Johannesburg-based small business producing popular plant-based 'meats'. The team believes that veganism or a plant-based lifestyle is the only one that makes sense – for our own health, for the environment, and for our fellow earthlings.
The offering includes a varied list of vegan alternatives to 'bacon', 'biltong' for that perfect sourdough sarmie or just a snack, 'steak' (barbecue, prego and braai), 'spare ribs', 'boerewors', 'patties' (boerewors and chilli flavour). No need to pass on pizza or pasta night, as the range also offers cruelty-free pulled 'chicken' and 'pork', as well as 'chorizo', 'pastrami', and 'pepperoni' for great toppings.
HERBI VŌHRians Daniel and Anneke Malan realise that transitioning to this kinder, healthier but perhaps unfamiliar lifestyle can be challenging, so they've created delicious replacement products to smooth the way. These products are also especially for those who have been plant-based or vegan for a while, but still miss some of the remembered tastes they grew up with.
Where to get it: To shop HERBI VŌHR's meat replacement products, check out Vegan Things for next day deliver in Gauteng or your local Dis-Chem branch
Website: herbivohr.wixsite.com/herbivohr | Email: hello@herbi-vohr.co.za | Contact: 010 824 7959
Facebook: @herbivohr | Instagram: @herbivohr

If you're pressed for time or don't know your way around the kitchen, We are Food has gone the extra mile to simplify your Meat-Free Monday challenge with some great meal options. All you have to do is heat and eat!
A quick browse through their selection of homemade veggie dishes will instantly make you want to secure yours asap. As their catchphrase goes 'marvellous food for your freezer.' That's their aim – to add a personal touch to homestyle 'frozen food' and revolutionise the way you cook and entertain, allowing you the freedom to spend less time in the kitchen, and more time making memories.
Their Vegan and Vegetarian Value Packs offer a healthy, cost-effective, and convenient way to ensure your wholesome lunch and dinner is sorted. The pack includes portioned dishes serving one of Spanish Bean Bowl, Thai Red and Yellow Curries, Melanzane, Mushroom Lasagne, Paneer Butter Masala, and Hearty Vegetable Soup just to name a few. All of their meals are portion-controlled with nutritional information provided, and they're served in recyclable packaging.
We are Food is a family-run, female-strong, South African business providing great home-style meals for your freezer since 2013.
Where to get it: Orders can be placed online for delivery throughout Greater Joburg and Pretoria. Find out more about their deliveries and store locations here and follow them on social media for their latest offers.
Website: wearefood.co.za | Email: info@wearefood.co.za
Facebook: @wearefood | Instagram: @wearefood_sa