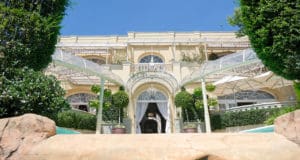 The Munro Hotel, which overlooks the world's largest urban forest, is a rare jewel.
Surrounded by waterfalls, exotic plants and panoramic views of Johannesburg's garden city, the hotel itself nestles within its heart a three-storey Victorian conservatory.
This palatial mansion offers five luxurious suites. The attention to detail, impeccable service and passion for indulging esteemed guests promises for an outstanding and memorable experience.
The hotel offers accommodation and functions, with an intimate wedding venue that holds 80-100 guests. It also has an onsite restaurant exclusively for hotel guests.
Venue: 63 St Patrick Road, Houghton


Tel: 010 023 0177 | 011 487 1420
Email: info@themunrohotel.com
Website: www.themunrohotel.co.za
Facebook: @themunroboutiquehotel
Instagram: @themunrohotel