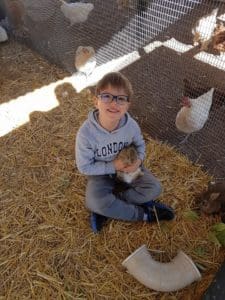 The Crazykidz Farmyard is a family-friendly day trip as well as a party venue.
The area includes a large sandpit, jungle gyms, trampolines, a pirates ship and a 230m bike track. The farm animals the venue is home to includes, bunnies, chickens, sheep, goats, emu, pigs, tortoises and a pony. The animals can be fed and the pony is available for pony rides.
Please note there is a snack shop on site, however, they do not sell food. Patrons are welcome to bring in a picnic basket but all beverages must be bought from the shop. This includes water bottles.
Party packages and school outing packages are available.
Venue: 9 Daniel Street, Danielbrink Park, Randburg
Times: Mon – Sun 9am to 5pm
Cost: R25 – R75
Tel: 082 389 9153
Email: crazykidzfarmyard@gmail.com
Website: www.crazykidzfarmyard.co.za
Facebook: @crazykids.farmyard