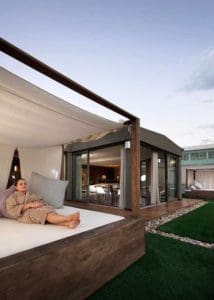 Situated in the heart of Johannesburg, Life Day Spa Fourways is a dedicated specialist spa.
Life Day Spa Fourways is a proud member of the Spas of Distinction Collection and sister spa to the Life Lux Spa Sandton, Life Day Spa Kids, Life Day Spa Rosebank, Life Day Spa Century City and Life Day Spa Waterfront. The award-winning Spas of Distinction Collection has provided South Africans with quality health and beauty experiences for over 35 years.
Enjoy their spa facilities before treatments by relaxing in the steam room, sauna, Swiss shower or heated indoor spa pool, easing away any stress and relaxing both mind and body.
Life Day Spa offers a variety of treatments and spa packages to cater to the senses. Experience serene bliss in the treatment rooms, which have shifting colours that appeal to different aspects of the psyche. Promoting a relaxed frame of mind and soft, soothing music adds to the effects, allowing patrons to drift away while therapists gently knead the stress from tired muscles with a variety of style of massages.
Where: Life Day Spa Fourways, 2 Design Quarter District, Leslie Ave East, Fourways
Time: Mon – Frid 8am to 7pm | Sat 9am to 6pm | Sun 9am to 5pm
Tel: 011 465 7777
Email: info@lifedayspa.co.za
Website: lifedayspafourways.co.za
Facebook: @LifeDaySpaFourways
Instagram: @lifedayspafourways
Twitter: @LifeDaySpa