Pretoria's burger scene is alive and kicking, and we're always hungry for more. There's something really comforting about tucking into a greasy, cheesy handcrafted patty cooked to medium and sandwiched between two soft or lightly toasted buns with special mayo. And over the years burger joints have perfected their craft with gourmet toppings and witty pairings to match the tastes of the modern, casual foodie. Benn van der Westhuizen spotlights five proudly local spots where you can feast on the best burgers in Pretoria and surrounds.
Buzzing with a trendy, casual atmosphere, Yami Rib and Burger dish out great burgers from their outposts in and around Pretoria. The stores are spacious with rows of funky, colourful booths, a bold graffiti wall art mural, and some edgy design accents.
Yami Rib and Burger do all the basics just right. The beef patties are cooked to perfection and toppings satisfy the cravings without being too over the top (they save that for the milkshakes). A go-to is the crowd-pleasing bacon, egg, and cheese burger wrapped in a soft white bun that comes stripped of all the bells and whistles, and or tear into the Sputnik which is fried back mushrooms, mature cheddar, and a slathering of garlic sauce on a meat patty
While you're there, close your mind to calorie count and give of their artisanal milkshakes and freezos a try. We're rooting for the BarOne chocolate shake drizzled with more chocolate, fresh cream, and nuts.
Must-try burger: The truly hungry will appreciate Big Uncle Sam for a double dose of mature-aged cheddar, cheese, and mushroom sauce resting on a bulky 300g patty. The Mushroom burger with flash-fried black mushroom, onion marmalade, and avo pulp is Yami's meat-free option
Where: You can find them in Sinoville, Glen Village in Pretoria, Grey Owl in Centurion, and Park Rand and El Ridge in Boksburg. See here for the full list of branch details
Website: yamiribandburger.co.za | Email: info@yamiribandburger.co.za | Tel: 012 548 6028
Facebook: @yamiribandburger | Instagram: @yamiribandburger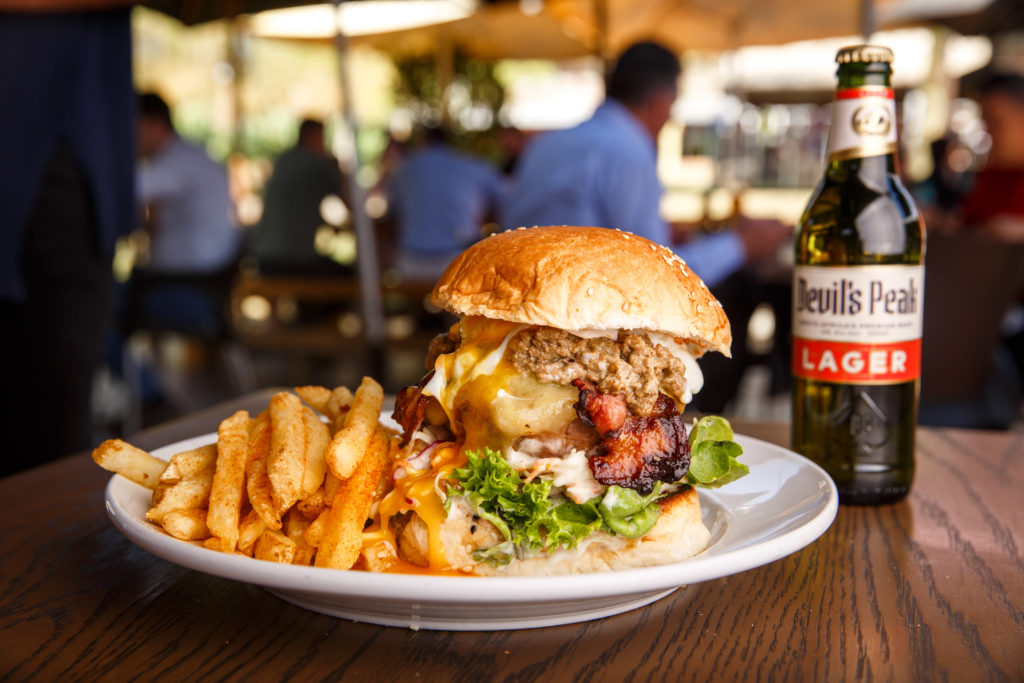 Beer and burgers are an unbeatable combo. At Capital Craft you will find what is arguably the best burgers in Pretoria, but with a foodie edge. The space is also the go-to for hardcore craft beer fans thanks to a large library of local and imported beers and the laid-back vibe. As such, this Menlo Park beer bar's burger selection had to be a cut above the rest in order to stand tall next to the flavour-driven beers. 
You can look forward to some seriously innovative pairings. From the bone marrow and blue cheese burger to a panko-crumbed chicken fillet with various toppings, or wolf down a mean, 250g beef patty stuffed with bacon, sundried tomatoes, Jalapenos, white and yellow cheddar, and finished with a homemade cheese and beer-jalapeno sauce. The Menlo Park burger joint also crafts most of its sauces from scratch and uses only homemade buns for their creations.  
Vegans or those who occasionally ditch meat won't be left on the sideline – a few of the burgers are served only with plant-based ingredients. And you're welcome to swap out any of the meat patties for a Beyond Burger vegan burger option for a small additional fee.
Don't be intimidated to ask one of the barmen or waiters for a craft beer recommendation to pair with your burger.
Must-try burger: De Poes burger (as in the famous Belgian craft beer, for all you dirty-minded ones). Think pulled pork crumbed patty nestled in a Belgian waffle bun, fresh garnish, mozzarella, bacon, a dash of De Poes pilsner basil aioli, and an egg. Vegans can give the Cheeky-Pea Bun a shot with a crispy, shallow fried chickpea falafel patty laid on a bed of freshly sliced onion, lettuce, and tomato topped with melted vegan cheese
Where: Shop No. 20, Greenlyn Village Centre, Cnr Thomas Edison & 12th Street East, Menlo Park, Pretoria
Website: capitalcraft.co.za | Email: info@capitalcraft.co.za | Tel: 081 877 6924
Facebook: @capitalcraftmenlo | Instagram: @capitalcraftpta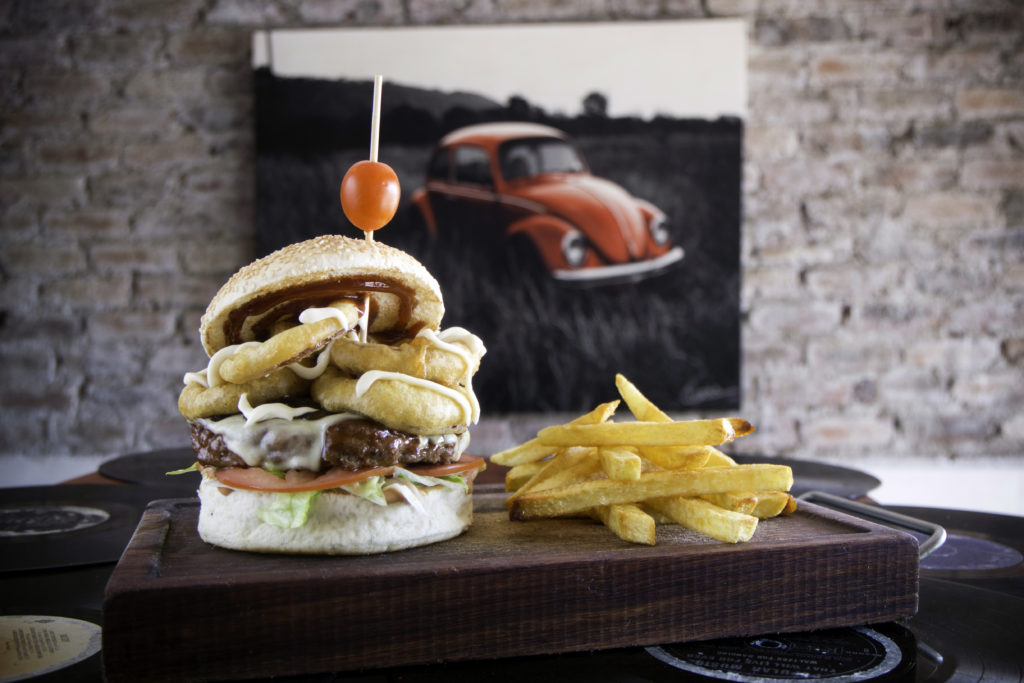 Burger Bistro is the closest you'll get to authentic American-style roadhouse fare, but without all the kitsch. When owners and burger fanatics, Corné Read and Jan-Hendrik van Staden, set up shop in Pierneef Street, Villiera in 2012 we doubt they had local domination in mind. Today the duo enjoys four bustling branches and a small following of returning fans thanks to their unique and cheeky take on burgers. 
For their standard burger, you'll get a smoky, pink-centred patty (cooked to medium-well) sandwiched in a classic sesame bun, and layered with tomato, onion, and their special sauce. You'll also find some classic South African topping faves such as mushroom, monkeygland, Hawaiian and cheddamelt, but Burger Bistro stacks up equally neatly next to your average gourmet burger joint with some interesting flavour combinations.
We're talking off-beat tries like Emmental cheese, salami, and basil pesto topping, and melted Brie with strawberry, balsamic and black pepper jam for something sweet and spicy. Aptly titled, the Marilyn Monroe. Or if you're feeling particularly patriotic, the slow-cooked and deboned oxtail burger should hit the spot while the Naas Botha burger goes all-out with slivers of biltong and a biltong-infused sauce.
Vegans and vegetarians can get with Ghandi, the spot's vegetarian burger served with …..
Must-try burger: The standout here is their 3 Stooges topped to towering perfection with crispy fried bacon, smooth Danish feta, avo, and a dash of dressing to smooth things out
Where: Montana and Villiera in Pretoria, Clubview, and Little Falls in Roodepoort. See here for the full list of addresses and contact details
Website: burgerbistro.co.za | Email: info@burgerbistro.co.za | Tel: 012 346 6147
Facebook: @burgerbistrosa | Instagram: @burger_bistro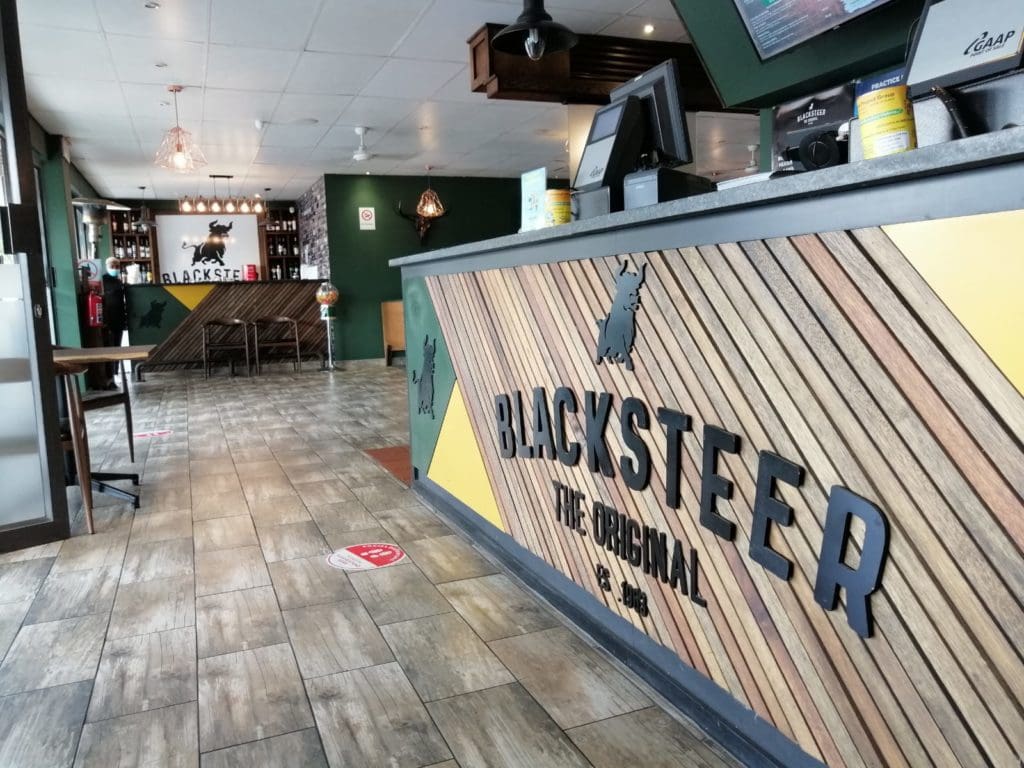 Blacksteer has been serving up some of the best burgers in Pretoria and Joburg since 1963. The charm of Gauteng's OG steakhouse lies in its straightforward offering of meat in a bun done right. They prefer serving up their burger sandwiches the old-school way while passing on the 'gourmet' varieties you'll find almost everywhere.
The menu is tight and to the point with mainstays such as grilled beef, crunchy fried chicken, or vegetarian and you'll get lettuce, fresh onions, tomato dill gherkin, and an option of peri peri or BBQ basting. Top it up with extra cheese, a fried egg, or jalapeno chilLies and you're good to go.
Don't leave without trying one of their classic milkshakes to wash down your meat sandwich. Go for the Chocolate Mint, Strawberry Caramel, or Black Forest varieties from the drinks menu.
Must-try burger: The Texas Burger comes with Blacksteer's pure beef flame-grilled greatness on a soft bun and topped with crispy bacon, feta, and guacamole with a spicy Mexican sauce.
Where: Montana in Pretoria, Beyers Park in Boksburg, Benoni, and Meadowdale Mall in Germiston. See here for addresses
Website: blacksteer.co.za | Email: info@thefranchiseco.co.za | Tel: 012 548 6028
Facebook: @blacksteerhq | Instagram: @blacksteer_za
The choice for CowFish to set up a new shop for their new, experimental food concept at Silverstar Casino was a gamble (pun intended) that paid off. This trendy, upmarket yet casual dining experience is now becoming part of the casino's attractions for the best in sushi, dim sum, seafood, grills, and cocktails.
But more importantly, CowFish is slowly earning respect for their clever pairing of gourmet American-style hamburgers with authentic Japanese Sushi. Band the purists needn't worry, a few modern, roadhouse burgers with crispy fried chips are still on the cards.
The menu is a throwback to classic American steakhouse fare with handmade burgers and a lot of mouth-watering toppings. We're rooting for the Belfast Boy with a cheese sauce with blue cheese crumble and whiskey glaze, or grilled Sriracha prawns, Emmenthal cheese, and spicy mayo layered for the Navy Marine.
The CowFish team opened its first store in Hazelwood, Pretoria in June 2017 with a deep understanding of the burger and steakhouse genres.
Must-try burger: The aptly named Mantears with some fiery flavours – jalapeno mayo, house chilli, chilli teriyaki sauce, and aged cheese on a 160g beef patty. Not for the faint-hearted. Vegans can try falafel-style chickpea Savage Garden burger with grilled mushrooms, tomato and onion. Hold on the mayo.
Where: Cowfish, Silverstar Casino, Shop 5 R28, Muldersdrift, Mogale City, Krugersdorp
Website: cow-fish.co.za | Email: silvercowfish@gmail.com | Tel: 063 545 4196
Facebook: @CowfishSilverstarCasino | Instagram: @cowfishsilverstarcasino