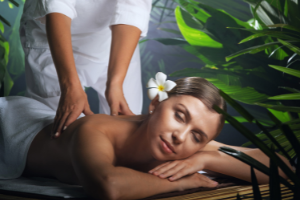 The Mommy Wellness Spa not only treats moms and moms-to-be but the whole family including the little ones!
Mommy Wellness Day Spa is committed to promoting women wellness through specialized treatments.
For women to embrace every aspect of pregnancy and womanhood.
The spa offer services for moms-to-be, first-time mothers, mothers that can handle 5 kids at a time and mothers that are grandmothers.
They have a full range of specialised spa treatments to choose from.
Treatments for mom range from massages, facials to hand and feet as well as trimester packages to suit moms-to-be.
The spa has Daddy wellness and Urban Teen treatments and packages to choose from too.
Mommy Wellness offer a home service where a wellness specialist comes to you in the comfort of your home or even when you have been admitted into hospital a little earlier than expected with baby arriving.
For specials, see here.
Where: Cedar Rd, Fourways, Johannesburg
Time: Mon – Fri 9am to 6pm | Sat 9am to 3pm
Tel: 062 492 4512
Email: fourways@mommywellness.co.za
Website: mommywellness.co.za
Facebook: @MommyWellnessDaySpa
Instagram: @mommywellness
Twitter: @MommyWellness