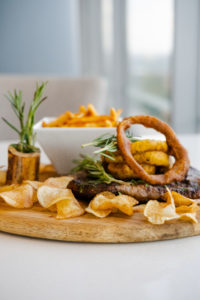 Vivace Restaurant and Bar at Radisson Blu Sandton is pleased to announce the launch of its brand new winter 2021 menu at the hotel's Vivace restaurant.
The menu was created by head chef, Tristan Latouf, with the idea of introducing a comfort food approach to dining which is synonymous with the cooler season.
"What we've found is that in the colder months, travellers and restaurant guests are looking for comfort food over the traditionally expected fine dining that hotels so often offer," says Chef Latouf. "The aim of this menu to create an atmosphere of delicious, wholesome food at a good price point without ever compromising quality. Our wish is for guests to leave the restaurant feeling sufficiently satiated and blissfully content."
To complement the menu, the head of Food and Beverage, Themba Mpofu has carefully selected a range of new wines that pair perfectly with the seasonal dishes.
Guests may begin with a starter of creamy Cajun peri-peri chicken livers on toasted baguette slices, or golden crispy halloumi cheese bites with lemon sweet chilli, rockets and black olives. Both appetizers work well with the Zonnebloem Blanc de Blanc or Allesverloren Shiraz.
For the main course, a 21-day matured fillet steak with crispy onions, bone marrows, Tobasco butter and thick-cut fries is sure to be a crowd-pleaser when paired with either a Ghost Corner Pinot Noir or Meerendal Merlot.
Should guests be in the mood for something lighter, grilled salmon on honey buttered thyme and roasted sweet potato discs, confit tomato and fried basil might be a good option. Or one could opt for the grilled chicken supreme, with a pepper crust, bearnaise sauce and shoestring fries. As per Mpofu's expert recommendation, a glass of the La Motte Chardonnay or Marras The Tricker Red Blend would be the perfect pairing to wind down with.
For dessert, Chef Latouf has created a taste of nostalgic comfort with a selection of 'Seriously Awesome Gelatos' to choose from, or 'Giant fudgy choc chip cookie' sure to satisfy the child at heart.
Venue: Radisson Blu Sandton, Vivace Restaurant, Corner Rivonia Road & Daisy Street Sandton
Tel: 011 245 8000
Email: info.johannesburg@radissonblu.com
Website: www.radissonhotels.com
Facebook: @RadissonBluHotelSandtonJohannesburg
Instagram: @radissonblusandton