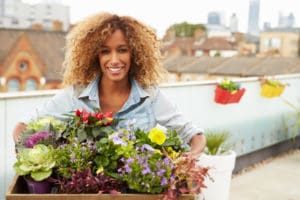 An evergreen and magical gardening destination for the whole family. This gardener's paradise creates fresh seasonal ideas with an annual Spring Festival to refresh the gardening palate. Their gardening expert, JJ van Rensburg, also gives advice on any gardening related questions.
Their extensive retail & wholesale nursery is stocked with everything an avid gardener needs to enhance their home oasis, including plants of all shapes and sizes, as well as a wide variety of pest control-, plant nutrition- and garden care solutions from some of South Africa's most trusted commercial and home garden suppliers.
The Garden World Trading Post hosts a regular weekend art and crafts market, as well as an annual Spring Festival to refresh the gardening palate. Their yearly events calendar also features a variety of exciting and informative events that include talks by gardening experts and short gardening courses, as well as performances by some of South Africa's best-loved artists and performers.
Their beautifully landscaped gardens are one of the best-kept secret destinations in Jozi.  The innovative Garden Centre features a rustic tea garden, on-site bakery, animal farmyard and playground that makes for the perfect kiddies' outing or party venue, as well as a picturesque and unique indoor garden reception area for weddings and functions.
The Garden World's Rustic Tea Garden offers a tranquil and outdoor setting where one can enjoy a range of mouthwatering treats, from freshly baked cream scones through their range of delicious home bakes to burgers with oversised patties, toasted sandwiches, farmhouse breakfasts and hotdogs with a choice of salads or chips.
Where: Plot 114, Beyers Naudé Drive, Muldersdrift
Tel: 011 957 2545 | 011 957 2047
Email: nursery@gardenworld.co.za
Website: www.gardenworld.co.za
Facebook: @GardenWorldNurseySA
Twitter: @NurseryGW