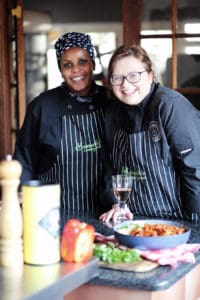 Antoinette's Cookery School is situated in the picturesque garden suburb of Lyttelton Manor, Centurion, and offers hands-on cookery classes.
Classes are held in a casual purpose build kitchen. a fully equipped and sociable environment, and can accommodate a maximum of 16 participants at a time for a relaxed, intimate experience during each cooking course.
During these cooking adventures, participants learn to cook multiple delectable recipes under the careful supervision of the Chefs and their assistants. Once the dishes are plated, the participants get to feast on their mouthwatering culinary creations in our beautifully renovated dining area.
Antoinette Coetzer, founder and owner, is a young and innovative chef who combines a thorough classical understanding of ingredients and techniques with modern trends.
Antoinette's Cookery School presents a wide variety of themed classes based on cultures, countries or specific gastronomic experiences. These classes are hands-on, social classes and are fun with culinary entertainment with a twist.
View the next class here.
Venue: 230 Kruger Avenue, Lyttleton Manor
Time: Various
Cost: Various
Tel: 083 692 9293 | 082 770 3833
Email: info@antoinettes.co.za
Website: cookeryschool.co.za
Facebook: @Antoinettescookery
Instagram: @antoinettescookery