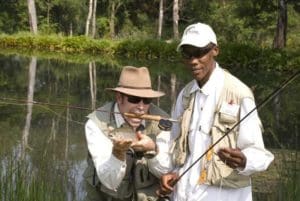 Sundowner Fly Fishing hosts introductory trout fly fishing lessons, giving adults and children an opportunity to try a new adventure activity in a safe and secure environment.
Lessons are hosted at Lanseria Country Estate in small groups of 10 people. Participants are taught the basic skills required for flyfishing by experienced guides, who also assist with practical fishing guidance.
Sundowner Fly Fishing believes in keeping the sport environmentally friendly so all fish caught must be released. Proper techniques required for correctly releasing the fish are taught.
Participants can continue fishing on the dams and with rented equipment for the rest of the day.
Venue: Lanseria Country Estate, Palamino Drive, Lindley, Lanseria
Time: Saturday and Sundays from 8:30am to 10am
Cost: Adults R450 | Kids under 12 years R350
Tel: Whatsapp 083 414 0391
Email: info@sundowner.co.za
Website: sundowner.co.za
Facebook: @SundownerFlyfishingAdventures
Instagram: @sundowner_flyfishing_adventure