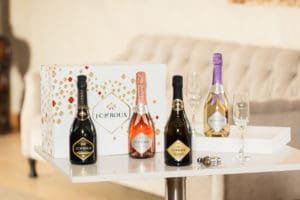 The House of J.C. Le Roux, South Africa's first dedicated sparkling wine cellar, now offers virtual celebration tasting boxes to all consumers around South Africa.
Customers can now experience the iconic brand in the comfort of their own homes.
The virtual tastings include a choice of 3 boxes, each with a bottle of J.C. Le Roux sparkling wine, two bespoke House of J.C. Le Roux Flutes, a bespoke wine stopper, and access to a pre-recorded virtual trial with Ulrich Hohns, J.C. Le Roux winemaker, and TV and radio personality Zoë Brown.
Tasting Box 1: Sparkling Sweet | R400
– 1x bottle La Chanson
– 1x bottle Nectar
– 1x bottle Nectar Rosè
– 1x bottle Le Domaine
– 1x bottle La Fleurette
– 2 x bespoke House of J.C. Le Roux Flutes
– 1 x bespoke J.C. Le Roux branded sparkling wine stopper
– A card with the details of what's in the tasting box as well as links to the Virtual Tasting Experience and the Spotify playlist to accompany the tasting
Tasting Box 2: Demi-Sec/Dry | R550
– 1x bottle Nectar Demi-sec
– 1x bottle Nectar Rosé
– 1x bottle Scintilla
– 1x bottle Sauvignon Blanc
– 2 x bespoke House of J.C. Le Roux Flutes
– 1 x bespoke J.C. Le Roux branded sparkling wine stopper
– A card with the details of what's in the kit as well as links to the Virtual Tasting Experience and the Spotify playlist to accompany the tasting
Tasting Box 3: Nougat Pairing | R400
– 1x bottle Sauvignon Blanc
– 1x bottle Nectar
– 1x bottle Nectar Rosè
– 1x bottle Le Domaine
– 1x bottle La Fleurette
– A selection of Sally Williams nougat and Turkish delight (This is the same nougat and Turkish delight they use in the 'Nougat Experience' tasting at the House of J.C. Le Roux.)
– 2 x bespoke House of J.C. Le Roux Flutes
– 1 x bespoke J.C. Le Roux branded sparkling wine stopper
– A card with the details of what's in the kit as well as links to the Virtual Tasting Experience and the Spotify playlist to accompany the tasting
Email: info@jcleroux.co.za
Website: jcleroux.co.za
Facebook: @HouseOfJCLeRoux
Instagram: @jc_le_roux