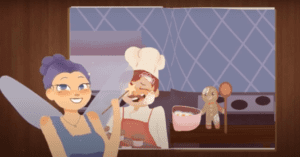 Local streaming platform &Scene has released a series of immersive virtual games called ESC Games, ranging from fictional homicide investigations to surviving a virtual winter.
Their Backyard Detective Agency series features online games for kids. The Great Cookie Caper is set in Storyville where a report of a missing Gingerbread Man leads the young sleuths through a series of clues to find the missing cookie while interrogating fairy tale characters along the way.
The Great Cookie Caper has a difficulty rate of 3 out of 3 and is recommended for players aged six to 12 years old. One ticket allows up to 4 devices to access the game with an additional charge for extra players. Each team requires one member to have a smartphone with a QR code reader.
Venue: Online, link sent in the confirmation email
Time: Various time slots, up to 45 minutes long
Cost: R650 for 1 hour and 4 devices | Additional players from R125


Email: hello@andscene.live
Website: andscene.live/escgames
Facebook: @AndSceneLive
Instagram: @andscenelive
Youtube: AndScene