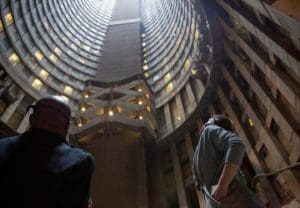 Dlala Nje, a walking tour company based in the inner-city Joburg tower block Ponte in Hillbrow, has created an immersive 360-degree walking tour experience that can be watched and engaged with from home.
Filmed in HD with surround sound, the virtual reality This is Hillbrow tour takes a 'digital stroll' with a professional Dlala Nje tour guide through busy Hillbrow. The tour visits local landmarks that would ordinarily be on the route in one of Dlala Nje's walks such as Hillbrow's bustling high street Pretoria Street, the immense Telkom Tower (Africa's tallest building) and of course the Ponte building, which is Africa's tallest residential building and an iconic landmark on the Joburg skyline.
While listening to the guide, the audience can then use the cursor (recommend watching on a computer or laptop) to scroll 360 degrees around and watch the world moving by.
The focus is on the guide and his storytelling but the 360-technology allows the eyes to wander and observe the passing of time and ordinary life.
The 25-minute interactive film talks about the nature of life in contemporary Hillbrow, while also outlining the recent history of this area.


Tel: 067 082 8168
Email: info@dlalanje.org
Website: dlalanje.org
Facebook: DlalaNje
Instagram: @dlalanje