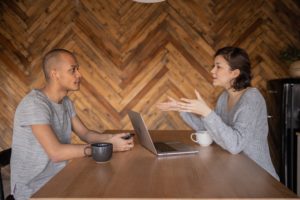 Keep Learning German – online. To protect South Africa's health, the Goethe-Institut Johannesburg is currently facilitating all courses in the language in an online format.
There are a range of lessons available from the school: adult German courses, courses for youth (between ages 10 and 16), specialised courses and finally courses for business clients.
Adult German courses: general language courses at A1 – C2 level for adult learners. The objectives and contents of these courses are based on the Common European Framework of Reference for Languages (CEFR).
Youth courses: Kids from the age of 10 to 16 can now learn German at the Goethe-Institut Johannesburg. The special youth courses are particularly designed for young learners and lead up to official FIT certification.
Specialised courses: Courses with specialized contents for specific target groups or to develop specific skills.
Business clients: for corporate clients, the school offers a wide range of services all from one source.
Venue: Online
Time: Various
Cost: R2 500 – R9 570
Tel: 011 442 3232
Email: JOH-LearnGerman@goethe.de
Website: www.goethe.de/ins/za/en
Instagram: @goethejoburg
Facebook: @goethe.joburg