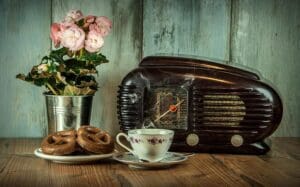 The Baxter Theatre Centre introduces Baxter Radio broadcasting school set-works, children's books, new South African works, and classics to kids online.
Baxter Radio intends to offer an alternative education and entertainment option to children. This initiative is also part of their efforts to ensure this Cape Town-based theatre's continuity and sustainability for years to come. For this purpose, they have launched a new fundraising campaign urging moms and dads to 'Buy The Baxter a cup of coffee every month' at R30 a cup.
A total of 40 local artists have been involved to make the works available. Susan Danford, for example, reads popular children's stories which include the Zambian tale The Hare's Revenge from Madiba Magic: Nelson Mandela's Favourite Stories for Children, Tacky The Penguin written by Helen Lester, and Julia Donaldson's A Squash and a Squeeze.
The stories supplied by Jacana Publishers are in English, Afrikaans, isiXhosa, and isiZulu. They come with special sound effects.
Learners in Grades 10 to 12 can tune in to listen to the reading of the isiXhosa set-work Buzani Kubawo, coordinated and directed by Faniswa Yisa and featuring 14 actors. Classic plays such as Harold Pinter's Landscape and Herman Charles Bosman's Street Woman will be performed Tiisetso Mashifane has created original content narrated in English, isiXhosa, and Afrikaans, which is a series of comedic short stories titled A Guide to Understanding Smaller Humans.
The shows are live-streamed or can be listened to later by subscribing on their website.
Venue: Online 
Cost: Donation
Tel: 021 685 7880
Email: leon.vanzyl@uct.ac.za
Website: www.baxter.co.za
Instagram: @baxtertheatre
Facebook: @baxtertheatre