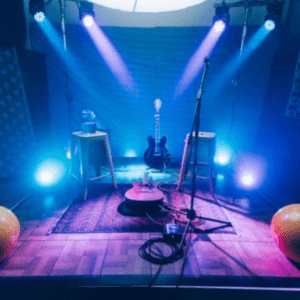 Soda Studio is a live digital music platform for African creatives and producers to bring stories and performances to life, and broadcast them to the virtual world.
With an aim to rekindle and ignite the entertainment industry after the effects of the Covid-19 virus on its players, the studio provides technology in a safe environment that generates a once-off experience for the artist but allows the viewer to watch, engage and act as a co-host alongside some of the major talents in the country.
Full sets, green-screen graphics, staging, and lighting are used to set the stage for artists to perform on. The result is a 'TV show' quality aimed at bringing the energy of a live performance right into the home of the viewers with the use of modern broadcasting methods.
Some of the names that this virtual stage has seen thus far are Malebo, Zoe Modiga, Navi Yuga, Morena Leraba, Kekelingo, Jeremy Franklin and the All-Star Band, and Urban Village. Occasionally, they open up the studio for a real live show with food stalls, drinks, and fire drums.
Recordings of virtual concerts, festivals, shows, and music performances can be viewed on Soda Studio's Facebook or streamed live from their Instagram page at a fee.
Venue: Online | Studio 19 Nugget Square, 131 Albert St, City and Suburban, Johannesburg
Cost: Free | R145 and up
Tel: 072 155 5090
Email: mic@sodaworld.tv
Website: www.sodastudio.co.za/
Instagram: @sodastudiojhb
Facebook: @sodastudiojhb