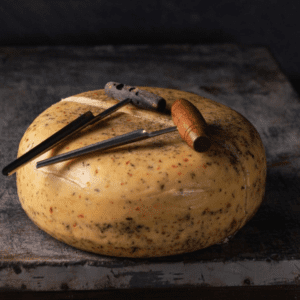 A family-run farm using slow production methods to make authentic Dutch Gouda, Van Gaalen Kaasmakerij offers cheese tours and tastings for all to try.
Fresh milk is collected from local suppliers ensuring that high-quality ingredients go into the Van Gaalen range of artisanal cheese. Their cheese is matured on the farm and a wide variety of ages and herb cheeses are available to buy at their farm shop.
On Wednesday and Saturday mornings, there are tours through the production and cooler rooms. A 60 minute talk on how cheese is made from milk to the final product is followed by an opportunity to taste some of the cheese. It ends off with beverages and Dutch apple cake served on the restaurant's terrace.
For further education on the art of cheese making, Annelien Pienaar, owner and well-known food consultant of BoereKosTwist, presents regular courses.
Family and kids are invited to come and enjoy being out in nature. There are many trails for biking, hiking, and birding spanning across 50 private properties. Picnics can be arranged for one to five persons.
Bookings for tours are not required but recommended.
Address: Plot 260, Skeerpoort, Hartbeespoort
Time: Wed and Sat 10am
Cost: R138 for adults | R90 for children
Tel: 083 226 7834
Email: info@vangaalen.co.za
Website: www.vangaalen.co.za
Instagram: @vangaalencheese
Facebook: @vangaalenkaas