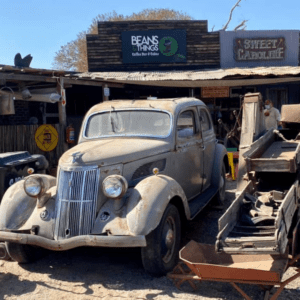 A trip to Cowboy Town makes for a unique family outing that invites each and all to Go Back West, and embrace their inner cowboy.
Cowboy Town is a family entertainment venue with an old western theme. It's a place notable for the nostalgia it creates. Of course, it's not quite the same as the 1800s, but at Cowboy Town, they try to ensure that a part of the Wild West still exists and that the cowboy is always cherished and loved.
This unique shopping market has over 30 western-themed shops, including restaurants, art shops, antique shops, Coca Cola, car, bar, and sports collectibles, and more. A few activities include horses rides, taking selfies at the 'Wanted' booth, getting a haircut at the barber, looking at old vintage cars and riding a bull.
They host regular events such as a rodeo market and live music which takes place on Saturdays and Sundays. There's entertainment for the kids as well.
Address: 1 Mclean St, West Village, Krugersdorp, Johannesburg
Time: Mon to Fri 8am to 5pm | Sat to Sun 8am to 2pm
Tel: 079 596 5225
Email: mia@cowboytown.co.za
Website: www.cowboytown.co.za
Instagram:  @CowboyTownSa
Facebook: @CowboyTown