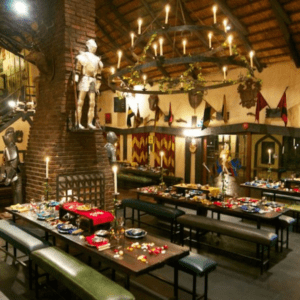 Greensleeves has been entertaining guests since 1974 with their medieval feasts capturing the pageantry, medieval splendour, and the roisterous bawdy thrill of eating as they did in King Henry's days.
The feast is prepared in their not so medieval kitchen. Guests are entertained with songs, stories, and enactments by the Baron and his Minstrels while joining in on the choruses. All the waiters and waitresses are in full character as Whences and Leckeys, and they play the trumpets too.
A visit to Greensleeves includes a four-course meal of which there are as many second helpings as diners want, a goblet of mead (honey wine), lots of audience participation and entertainment, and a DJ for dancing after the feast has ended. A highlight is renting a costume from them at an extra cost of R150 (50% deposit).
For the months of August and September, there is a Baron's Feast (Spit Roast Chicken and all the trimmings) and a King's Feast (Roast Sirloin of Beef and Spit Roast Chicken and all the trimmings) to choose from.
They cater to vegetarians, vegans, pescatarians, and halaal diets. Surcharges may apply for certain dietaries requirements. They also specialise in year-end functions, birthdays, and weddings. There is also luxury accommodation to stay in.
Bookings are essential.
Address: R563, Sterkfontein, Krugersdorp
Time: Fri 2pm to 9pm | Sat & Sun 8am to 4pm
Cost: From R525
Tel: 083 229 5677
Email: info@greensleeves.co.za
Website: www.greensleeves.co.za
Instagram: @greensleeveskingdom
Facebook: @GreensleevesFeasts