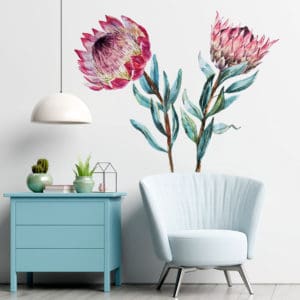 Give your office or study area an inspirational makeover with Fantastick Wall Décor's artsy designs that breathes life into any space.
They offer premium quality vinyl stickers, wall poetry & quotes as well as an ingenious 3D art collection – bold design, perfectly composed to personalise and add character to your work area.
The contemporary Wallpaper and Murals offer a diverse mix of styles, patterns and texture, ranging from the classic Bedford Brick for that office loft effect, or create a rustic look with the natural stone wallpapers.
Draw inspiration from Mother Nature, letting customers a wide choice of silhouette scenes of wildlife, and bestsellers such as The Fly Away Birds and many nature-loving designs.
Fantastick's 3D Wall Art offers a unique dimension to the room – laser cut from wood, PVC and paper to form various shapes, such as butterflies, fairies, dragonflies or birds, you can create a beautiful 3D effect.
The Wall Poetry & Quotes is crafted with a great selection of fonts and styles that motivate the workspace. The list of famous quotes or poetic inspiration is available to view in the online store.
Fantastick is uniquely South African, making the most of ingenious craft with an artistic and sophisticated look and feel – to mould your work nest into something special.
The online store hosts an array of adorning designs, and all products are available for delivery countrywide.
Where: Fantastick Wall Décor, 79 Jean Avenue, Centurion, Pretoria
Tel: 012 667 3109
Email: info@fantastick.co.za
Website: fantastick.co.za
Facebook: @Fantastickwallart
Instagram: @fantastick_wall_decor