Jasmyn Crafters Market and Village, nestled between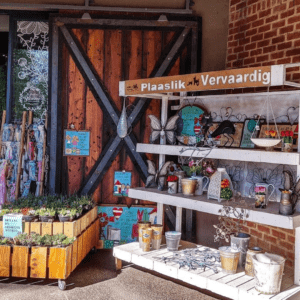 the Magaliesberg and situated close to the Hartbeespoort Dam, offers a wide selection of fresh farm produce, antiques and goods made by hand.
The Village, open 7 days a week consists of the Jasmyn Plaasprodukte Store, Jasmyn Book and Gift Shop, a Crafters Market and three restaurants with a Dutch theme.
The Jasmyn Plaasprodukte offers organically grown fruit and veg at prices set in yesteryear. There are also preserves, cheeses, rusks, biltong, nuts, dried fruit, honey and homemade meals. The Dairy produces award-winning Jersey Cow milk, cream, yoghurt and cheeses. They have a selection of imports that make for treats and gifts for the family.
The Bookery is a great find for any book lover. The selection is extensive and the prices low. The Gift Shop and Home Decor is filled with artefacts, antiques and handmade fine linen. The Crafters Market is open on the weekends and offers a variety of stalls with goods, items and foodstuffs.
Shoppers can choose between three different restaurants: The Windmill, Die Wafelhuis and the Opstal.
Address: 1 Jan Smuts Meerhof, Ifafi, Hartbeespoort
Time: Mon to Sun 8am to 5pm
Tel: 012 259-1183
Email: adrian.lyons@me.com
Facebook: @Jasmynmarket
Instagram: @jasmyncraftersmarket