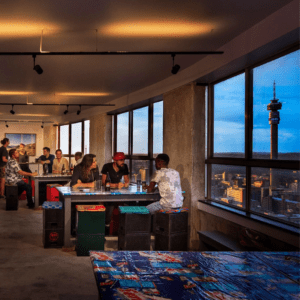 Dlala Nje invites all with an open mind to come for a Jozi shebeen experience in the clouds on the 51st floor of Ponte every Thursday.
Today, Ponte is believed to be a poster child for urban decay. Participants get a chance to see why this iconic, brutalist structure dominating Johannesburg's skyline, has attracted its current reputation – and why this perception is misguided. 
The tour starts at the Dlala Nje community centre where there's an introduction illustrating the relevance of the location. The guides take participants through a chronological journey, helping them better understand the building's history and context. This is followed by a look at grand opulence, government red-lining, social oppressions, and the building's resilient nature through complex economic times.
It ends off with drinks, pizza and shebeen-style snacks on the 51st floor.
Dlala Nje was founded in October 2012 and aims to challenge perceptions and to create opportunities. They do this by running inner-city immersions and experiences in some of the city's most misunderstood areas. These immersions and walks have allowed them to build and run a community centre aimed at providing a safe learning environment for children and youth.
Venue:  Dlala Nje, Shop 1, Ponte City Apartments, 1 Lily Avenue, Berea, Johannesburg
Time: From 4pm
Cost: R75
Tel: 067 082 8168
Email: 5101@dlalanje.org
Website: www.dlalanje.org
Facebook: @DlalaNje 
Instagram: @DlalaNje