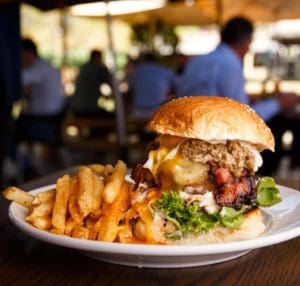 At Capital Craft you will find what is arguably the best burgers in Pretoria, but with a foodie edge. But the space is also the go-to for hardcore craft beer fans thanks to a large library of local and imported beers and the laid-back vibe. 
Beer and burgers are an unbeatable combo. As such, this Menlo Park beer bar's burger selection had to be a cut above the rest in order to stand tall next to the flavour-driven beers. 
You can look forward to some seriously innovative pairings. From the bone marrow and blue cheese burger to a panko-crumbed chicken fillet with various toppings, or wolf down a mean, 250g beef patty stuffed with bacon, sundried tomatoes, Jalapenos, white and yellow cheddar, and finished with a homemade cheese and beer-jalapeno sauce. The Menlo Park burger joint also crafts most of its sauces from scratch and uses only homemade buns for their creations.  
Vegans or those who occasionally ditch meat won't be left on the sideline – a few of the burgers are served only with plant-based ingredients. And you're welcome to swap out any of the meat patties for a Beyond Burger vegan burger option for a small additional fee.
Don't be intimidated to ask one of the barmen or waiters for a craft beer recommendation to pair with your burger.
Their dishes elaborate on these tales and are designed to complement the spicy taste of barley/wheat and hops in each brew. It is also part of the restaurant's mission to educate beer lovers and diners about the brewing process, the different types of beer, and also to help discover the rich fragrances, aromas, and tastes locked away in each beer.
Where: Shop No. 20, Greenlyn Village Centre, Cnr Thomas Edison & 12th Street East, Menlo Park, Pretoria
Website: capitalcraft.co.za
Email: info@capitalcraft.co.za 
Tel: 081 877 6924
Facebook: @capitalcraftmenlo
Instagram: @capitalcraftpta