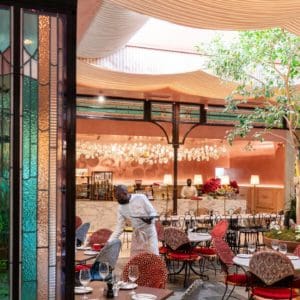 The newly refurbished Le Parc at tashas is a reminder that the days of boring mall dining are long gone. So much so that founder Natasha Sideris, who made a success of tasha's in both South Africa and Dubai, this stylish concept dining spot that doubles as a boutique retail space for unique produce. 
Sporting a posh interior of soft pastels, stained glass motifs, and luxury finishes, Le Parc by tashas has plenty of swagger. The idea is for guests to experience dining surrounded by a small retail setup showcasing gourmet kitchen essentials and homeware made by local and international artisanal brands.
The restaurant serves 55 French-inspired breakfast, lunch,  and dinner (excluding Sundays) meals weekly. Think ratatouille eggs with crispy brinjal, smoked salmon salad, a tashas-take on a Bahn Mi (crispy baguette with a savoury filling), and even calamari Provençal. Le Parc serves its own ice cream as the perfect take-home or eat-there treat – especially when placed next to a candy-floss machine, waffle station and toffee apples.
The food at Le Parc isn't just about dining-in there's also a substantial retail offering. One of the highlights is the bread – freshly made sourdough, baguettes, cranberry and seed loaf, coconut bread, and a couple of gluten-free options are made each day.
When: Monday to Tuesday, 7:30am to 6pm; Wednesday to Saturday, 7:30am to 8pm, Sunday, from 7:30am to 5pm
Where: Hyde Park Corner, Cnr Jan Smuts Avenue and William Nicol Drive, 6th Rd, Hyde Park
Website: leparcbytashas.com
Email: hydepark@tashascafe.com
Tel: 011 325 5532
Facebook: @leparcbytashas
Instagram: @leparcbytashas