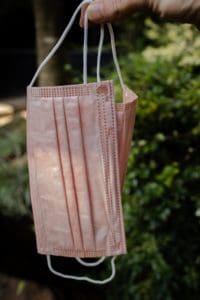 Copper Fresh is a proudly local startup that has just unveiled one of Africa's first face masks capable of combating the SARS-Cov-2 virus thanks to a unique copper component material. 
This innovative new copper fabric is backed by 15 years of research that covers the origins of the technology where copper oxide-infused fabric was used by paramedics to dress wounds at accident scenes.
Trio founders David Ash, Dean Lazarus, and Roy Miller secured the rights to manufacture this groundbreaking technology locally for Africa. Currently, the patented copper fabric is shipped to Johannesburg where a local team manufactures the masks. Copper is believed to eliminate bacteria, fungus and viruses within minutes.
'One of the problems with traditional masks is that it doesn't prevent you from touching your face often. This means every time you touch your face you are spreading a new virus onto your mask and contaminating it,' said Miller.
'[Our] mask kills viruses and bacteria. Whereas your traditional blue mask doesn't. So, if you take your mask off and then put it back on again- you are still carrying the virus with you and ultimately back into your home environment.' 
According to its website, the Copper Fresh face masks are certified by the FDA and can be worn for a number of weeks as long as the material is intact.
The masks are affordable and recommended for individuals, households, companies as well as all front-line workers, and anyone working in public spaces.
Available in a light pink hue, Copper Fresh masks are sold in a pack of 5 masks (R150 excl shipping) and are available for shopping via their online store.
Tel: 083 376 0376
Email: info@copperfresh.co.za
Website: copperfresh.co.za
Facebook: @99loop
Instagram: @copperfreshafrica