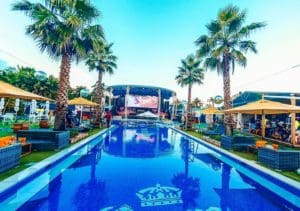 Surrounded by the hustle and bustle of Johannesburg the Altitude Beach is set to be Joburg's hottest premier water-front dining and lifestyle venue.
The Altitude Group brings the ultimate beach escape to Jozi. With the global trends moving towards daytime entertainment, development entrepreneur Damian Michael brings his latest venture – an activation space & world-class restaurant. A destination for luxury, exclusivity and indulgence.
The fine dining offering features a delectable modern menu set to serve over 700 people either in a corporate or party environment. This includes a sophisticated, state-of-the-art, stand-alone Sushi/Oyster bar.
An endless selection of Premium drinks and luxury cocktails are available from world-class bartenders and mixologists at the various bars throughout the venue.
The 'Owner's Pit' situated at the centre of the venue offers a supreme VIP experience while several sunbeds are strategically placed in the various zones throughout the venue.
For a lineup of DJ's playing, see their Facebook page.
Address: Altitude Beach, Fourways Boulevard, Sandton
Time: Thurs to Sun 12pm to 12am
Tel: 011 516 0569 | 063 475-9523 (Bookings)
Email: info@altitudebeach.co.za
Website: www.altitudebeach.co.za
Facebook: @AltitudeBeach
Instagram: @altitudebeach